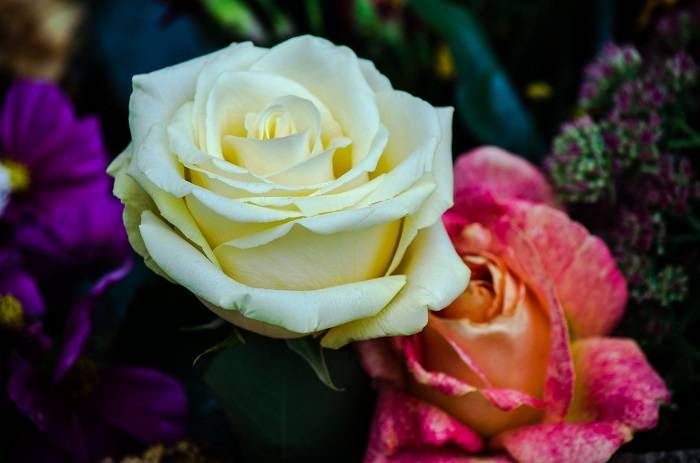 The definitive guide to choosing a funeral flower arrangement
Posted by AK Lander | On February 27, 2018 16:41
For many centuries, flowers have been used to mark all manner of occasions, from celebrating weddings and Valentine's Day to marking anniversaries and as gestures of thanks.
Of course, floral arrangements have also long been a feature at funerals, adorning coffins and places of worship to help add colour and grace to what is always an extremely difficult day. Furthermore, flowers can be a source of comfort to the bereaved when sent as gifts from other family members and friends, whilst the deceased's memory can be honoured for years to come through the placing of memorial flowers at their graveside.
We have put together the below to present you with some more information about which kinds of flowers and arrangements are the most popular at funerals, as well as those which can be laid in graveyards in the months and years that follow. If you read to the bottom of this guide, you will also find information on how funeral flowers are viewed by different religions and some answers to a number of frequently asked questions.
Grave flowers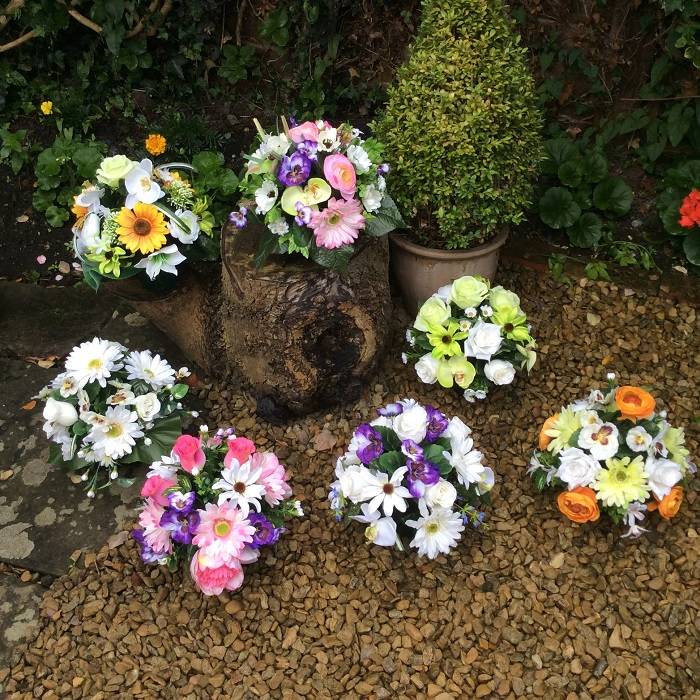 Anybody who has lost someone dear to them will know that holding their funeral does not mean that person disappears from our thoughts. The passing of a family member or friend will remain fresh in our memories for many years to come, and coming to terms with the sense of loss we feel is perhaps the greatest challenge we can face in life.
Once someone we care for has left this world, however, it is important that we find fitting ways to honour them and respect the legacy they left behind. One of the simplest and most elegant methods of doing this is by ensuring that their headstone memorials are visited regularly and maintained to a high standard.
Below, you can find some advice on this subject from Helen at Flowers by Rosina May, Bristol-based florists specialising in providing beautiful arrangements for all occasions. Read on to discover how flowers can be used to mark and enhance the appearance of our loved ones' final resting places.
"As a florist I always recommend fresh floral arrangements for a grave, but I am also aware that people may not be able to visit their loved ones as frequently as they would like to, so I will also suggest silk arrangements for when they can't attend the grave.
"Fresh flowers will have to endure all weather, like the sun, wind and rain and not to forget the frost. Long lasting flowers such as carnations, chrysanthemums, spray carnations and gypsophila are more likely to withstand the English weather and come in a variety of colours.
"The arrangement is usually placed in the grave pot that comes with the headstone and is designed to be small so as not to cover the stone's wording dedicated to the loved one. The floral posies in the above photo are all silk flower displays."
Funeral flowers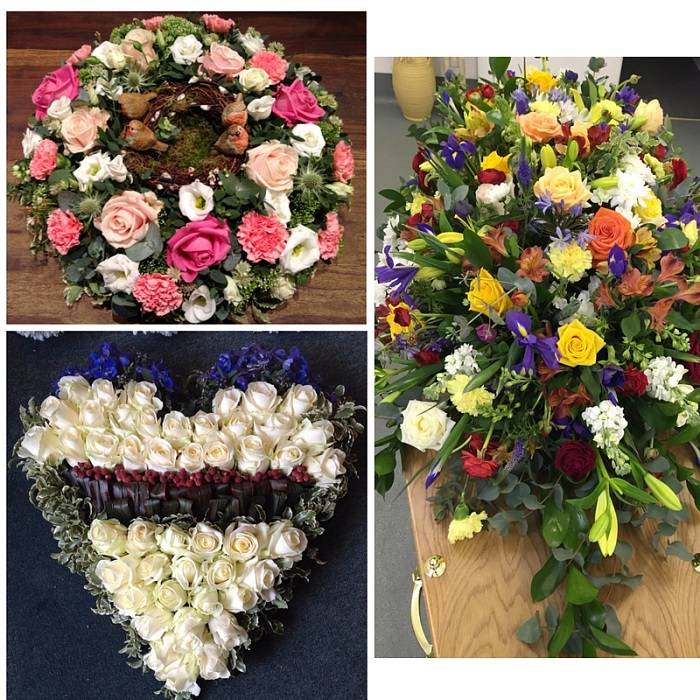 Flowers have been a common feature of funerals for many years, previously used as a way of controlling the odour of natural body decomposition. One of the most famous funerals in which flowers were used for this reason was that of the American President Andrew Johnson in 1874. As his body was not embalmed, the undertaker had to close the casket and heap plentiful flowers on top, masking the smell long enough for the funeral to take place.
Funeral flowers are important as they not only symbolise the life cycle from birth to death, but also celebrate the fragility of life and its many beautiful aspects.
Today, a wide range of flower varieties are used in funeral sprays and other bouquets, all of which can be arranged in different ways to reflect the type of service you are planning.
Cushion & Pillow Tributes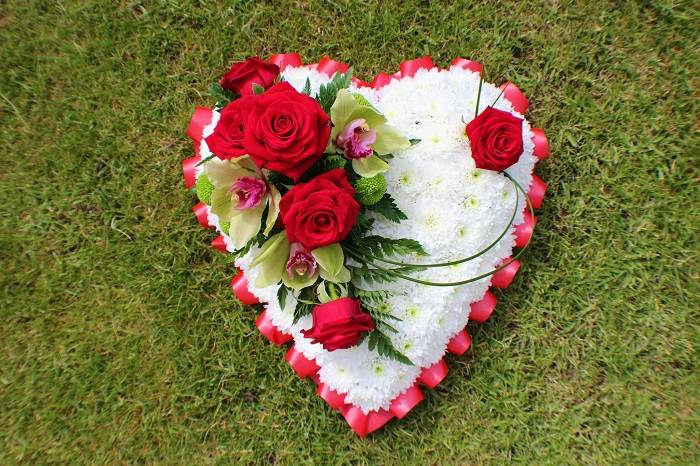 One of the most popular options is the traditional funeral cushion or pillow, symbolising a comfortable resting place for the deceased. The best thing about cushions is that they are available in a range of different colours and sizes, and in rectangular, square and heart-shaped designs, meaning you can easily find one to suit your budget.
Tied Sheaf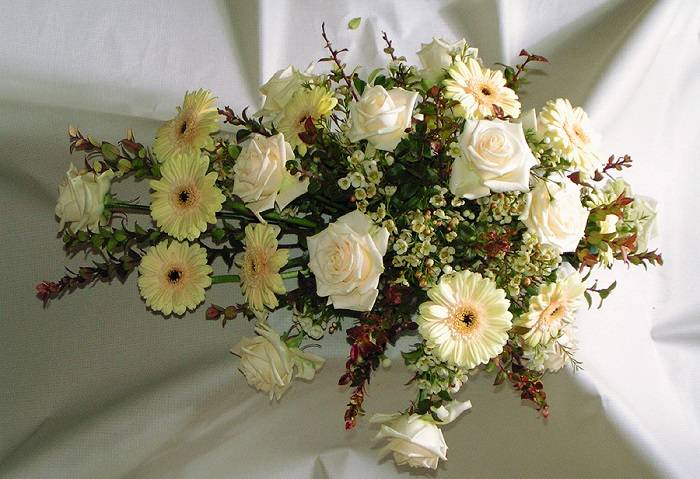 If you are looking to plan a natural, alternative funeral service, a tied sheaf could be your bouquet of choice. Although it looks very similar to a normal bouquet, the flowers, surrounded by green foliage, are arranged flat in a teardrop shape and tied with a bow for a simple yet beautiful design.
The Posy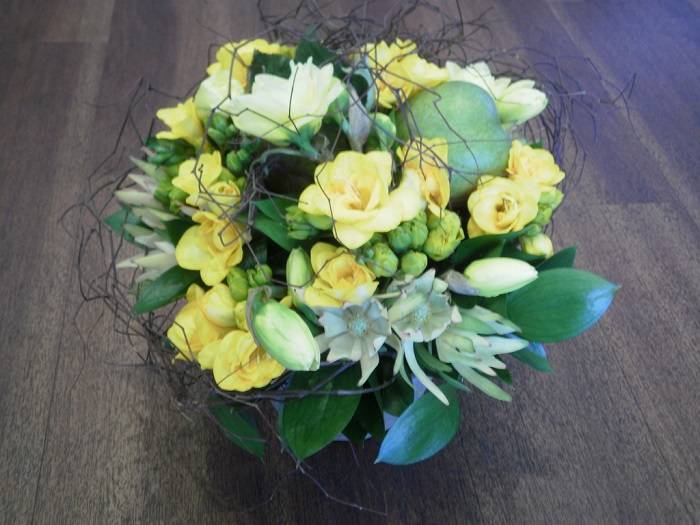 Another option is the posy, a simple yet effective bouquet which is appropriate for funerals of all kinds. The circular design makes for a clean-cut shape and means that all flowers can easily be seen from any angle.
Wreath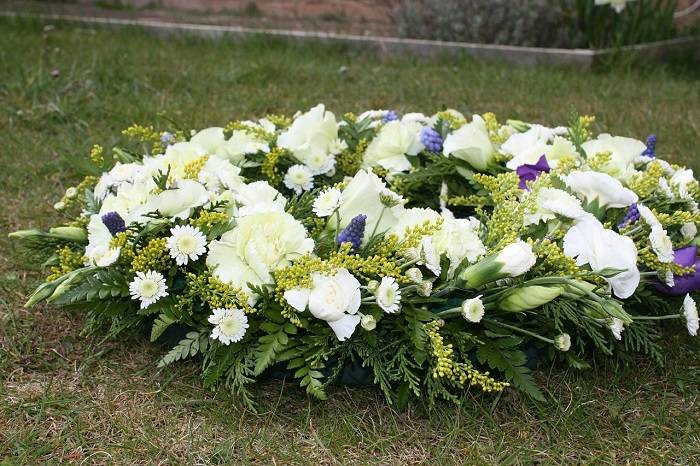 Wreaths may well be the most famous example of funeral flowers, with their origins dating back to Ancient Greece. The circular shape of the wreath is intended to symbolise eternal life and, of course, is also commonly associated with the UK's annual Remembrance Day commemorations.
Funeral Cross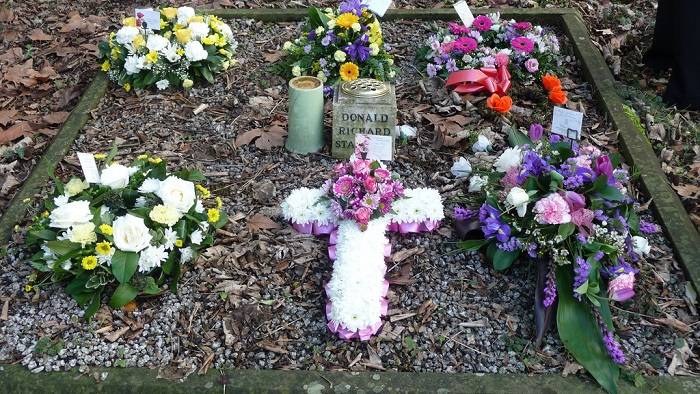 Floral arrangements can be made into many bespoke shapes for funerals, depending on the wishes of family members, and one of the most popular examples is the traditional cross. A fitting choice if the deceased was a regular churchgoer, the cross is a simple yet moving tribute.
Messages commonly written on funeral flowers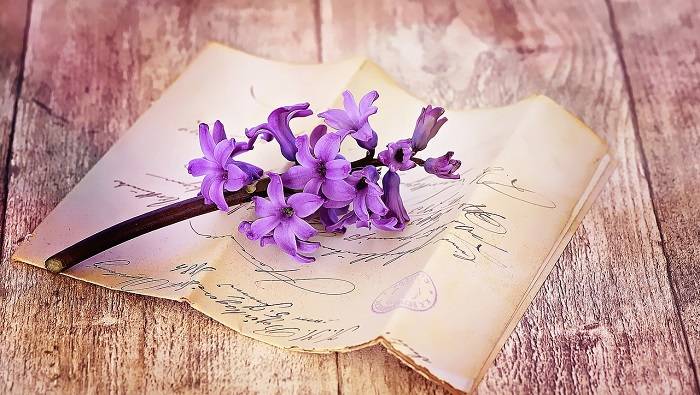 Alongside choosing the type of flowers, something else which must be considered is the nature of the messages which accompany them. Whether it is a friend, parent or sibling you are saying goodbye to, the messages sent should always be given a great deal of thought beforehand.
In many cases a simple message works best, and words like: 'In loving memory of a dear friend', 'With deepest sympathy from …' or 'Miss you already – will always be thinking of you' are good choices if you are finding it hard to put pen to paper.
How funeral flowers differ between religions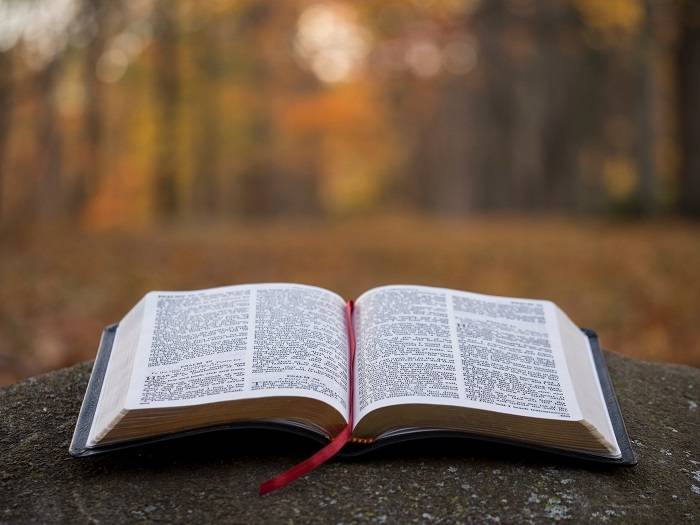 Treating the religious views of others with sensitivity is always important, but this takes on even more significance when it comes to funerals. Below, you will find some brief information on the different funeral flower customs which prevail among a number of the world's most widely followed religions:
Protestantism and Roman Catholicism: With these two branches of Christianity, flowers are widely accepted as an appropriate way of marking a person's passing and can be sent to family members in commiseration.
Judaism: Flowers are not a traditional part of Jewish funerals and you may risk causing offence if you send flowers to the deceased's family during the solemn 'Shiva' period of mourning.
Buddhism: Whilst the giving of flowers will be appreciated at Buddhist funerals, red flowers should be avoided. This colour is seen as a symbol of joy in Buddhism, meaning that all red flowers, clothes and other items would be deemed highly inappropriate at a funeral.
Islam: The Islamic approach to flowers differs between groups and families. Many Muslims would be happy to receive flowers as a gesture of sympathy but others believe the custom is inappropriate, as Islam focuses on the importance of simplicity over material goods.
Hinduism: Whilst flowers often play an important role in Hindu funerals, these are arranged by the family of the deceased. The sending of flowers by guests is not a Hindu tradition, and bringing flowers along to the funeral itself may be greeted with disapproval.
Hints and tips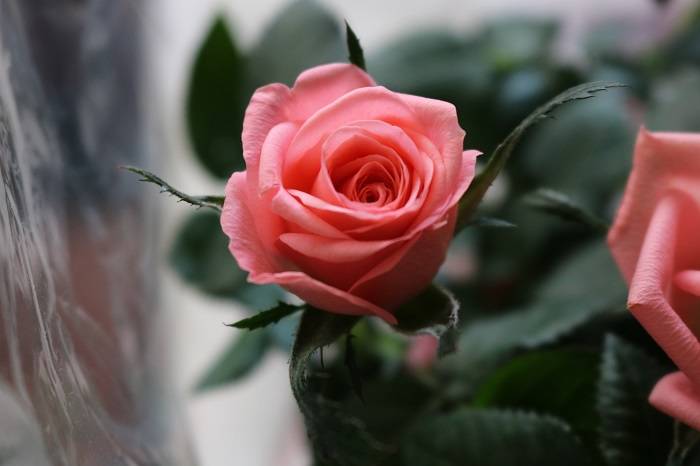 No type of flower is forbidden when it comes to funerals or graves. Whilst you may consider roses, for example, to be more closely associated with romance, there is no reason why they cannot also be used in a funereal arrangement.
Most florists who offer funeral-related services will be able to produce bespoke arrangements which can be informed by the personality of the deceased.
Sympathy flowers do not have to be sent straight away. If you are pressed for time and would rather wait until after the funeral is over to send some appropriate flowers to the family home of the person who has passed away, there is nothing wrong with this.
Image Credits: Fredrik Andreasson, Flowers by Rosina May, Tolly's Flowers, Sam Foles, Moeng, Jenny Burtt, Floristluton, Damo1977, Pezibear, Aaron Burden, Kirushanthan Krishnapillai