Inscription Examples
Inscriptions can be engraved into the stone and painted in any colour. Alternatively, lead letters can be fitted instead.
The prices that are stated are based upon the material/size that has been selected. Most memorials include 100 letters, fixing and fitting at the cemetery. Please note: Vases include 30 letters. Cremation and Children Memorials include 50 letters. All additional letters are charged at £1.95 including VAT. Added extras are available.
Fonts, Inscriptions and Verses
All our inscriptions can be produced using the following typefaces.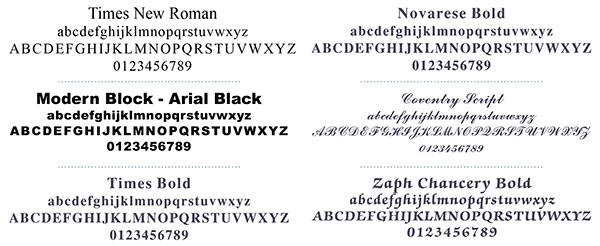 Below are a sample of inscriptions available although alternative options of your choice can also be applied
AKM 01
GOD SEES WHEN THE FOOTSTEPS FALTER
WHEN THE PATHWAY HAS GROWN TOO
STEEP SO HE TOUCHES THE DROOPING
EYELIDS AND GIVETH HIS LOVED ONE SLEEP
AKM 02
ALWAYS IN OUR THOUGHTS
FOREVER IN OUR HEARTS
AKM 03
MY THOUGHTS OF THEE WILL NEVER FADE
AND TIME WILL NEVER STEAL
THY SWEET SELF FROM MY HEART
AKM 04
TO LIVE IN THE HEARTS OF THOSE WE LOVE
IS NOT TO DIE
AKM 05
HE WAS THE FATHER SO VERY RARE,
CONTENT IN HOME AND ALWAYS THERE,
UNSELFISH WAYS AND A HEART OF GOLD,
NO FINER FATHER THIS WORLD COULD HOLD
AKM 06
PEACE PERFECT PEACE
AKM 07
HIS LIFE A BEAUTIFUL MEMORY
HIS ABSENCE A SILENT GRIEF
AKM 08
LOVING AND KIND IN ALL HIS WAYS
UPRIGHT AND JUST TO THE END OF HIS DAYS
SINCERE AND TRUE IN HEART AND MIND
A BEAUTIFUL MEMORY LEFT BEHIND
AKM 09
GONE ARE THE DAYS
WE USED TO SHARE
BUT IN OUR HEARTS
YOU'RE ALWAYS THERE
AKM 10
TOO DEARLY LOVED TO BE FORGOTTEN
AKM 11
IT BROKE OUR HEARTS TO LOSE YOU
BUT YOU DID NOT GO ALONE
FOR PART OF US WENT WITH YOU
THE DAY GOD CALLED YOU HOME