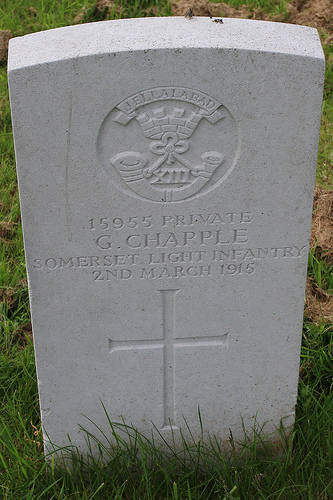 British servicemen at Bridgewater cemetery being researched
Posted by AK Lander | On November 20, 2015 00:00
Servicemen buried at the Wembdon Road Cemetery in Bridgewater are set to be researched to mark the anniversary of the First World War.
It has been revealed that the British servicemen that lay at a cemetery in Bridgewater will have their lives researched to mark the anniversary of the First World War.
In total, 54 old memorial Gravestones at the cemetery will be researched by The Friends of Wembdon Road Cemetery to help reveal who the names on the headstones really were.
An article published on the Bridgwater Mercury website revealed that The Friends of Wembdon Road Cemetery had recently found a photo for one of the men buried at the cemetery. Pte Leslie Goodland of the Somerset Light Infantry was being researched when the group discovered a photo of him in an attic in Yorkshire.
Group publish findings on website
The group found and published details of Pte Leslie Goodland on their website so that relatives and other interested parties could discover more about him.
Through the group's research they discovered that Leslie was born in 1887 in Bridgewater and was schooled at the Dr Morgan's School in 1912 before he enlisted to join the war effort in 1914 at Weston Super Mare. At the age of 31 Mr Goodland died of Malaria in 1918 and was buried at Wellington Garrison Cemetery, but his family built a memorial for him at Wembdon Road Cemetery.
Now the group are planning to do the same thing for the rest of the fallen soldiers that are buried at the cemetery in Bridgewater and are calling on any friends or families of the soldiers to contact the group with any information that they have.
Miles Kerr-Peterson, who is the Chair of the group said; "This has been a fascinating and most rewarding task to perform, we now need the support of local families to hunt in their attics and old albums for pictures of these missing heroes."
Image Credit: (Mick Baker)rooster (flickr.com)