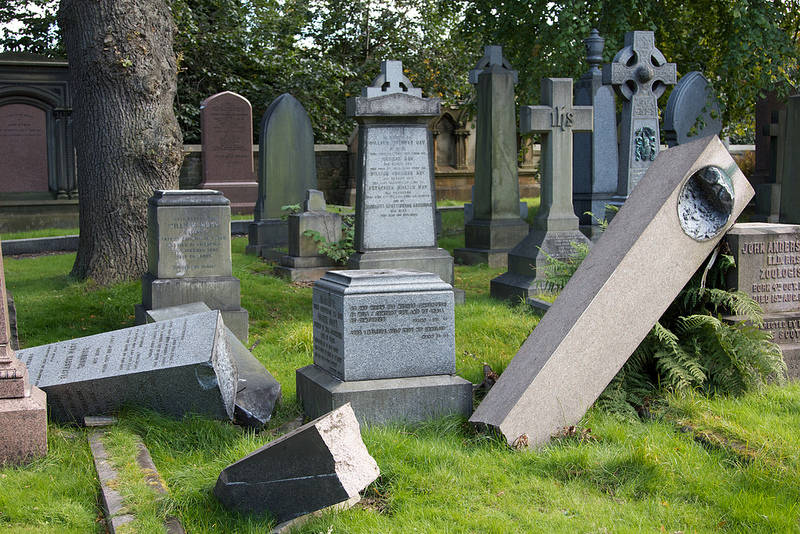 Bus damages many gravestones in Gateshead
Posted by AK Lander | On September 22, 2014 15:23
A number of gravestones in Gateshead have been damaged after an out-of-control bus careered of the road into a cemetery.
A number of gravestones in Gateshead have been damaged after an out-of-control bus careered off the road into a cemetery.
An incident which shocked local residents, the bus smashed through the railings at Saltwell Cemetery in Gateshead after hitting a parked car and losing control, hurtling down a bank and smashing through 30 memorial gravestones before stopping.
While it left many grave sites in a state of disrepair, it would have been an understandably horrifying experience for the 15 passengers on board the Go North East service, with one of those on board having to be taken to hospital to be treated for minor injuries.
Incident now being investigated
Following the crash, the area was cordoned off while investigators examined the scene and attempted to work out exactly what happened.
After a spokesperson for the Go North East service stated that a full investigation will now take place into how the incident occurred, it is likely that the company will have to take full responsibility and therefore pay for the repairs to all the damaged gravestones.
Gardener Paul Routledge was one of the first people on the scene as he was cutting grass in the cemetery just as the bus went on its unplanned trail of destruction. He said:
"When I looked I saw the bus bouncing down so I dropped my gear and by the time I got over to the bus it had come to a standstill.
"Everybody was still screaming but I managed to get the front doors open, so I stepped in to the bus and there was a lady lying on the floor and there was people further up on the floor."
Gateshead Council said that it has been contacting families whose relatives' gravestones were damaged, seconding the notion that any insurance claims are likely to be sorted by the bus operator.
Image Credit: neil.inglis (Flickr.com)
Image does not depict crash site.