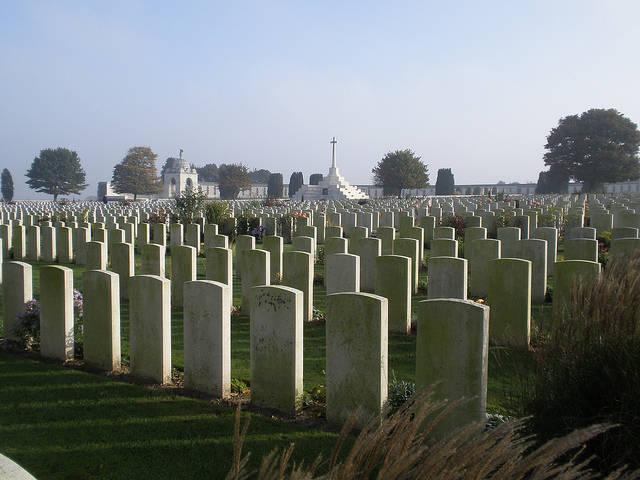 Couple search for graves of Cheshire soldiers
Posted by AK Lander | On July 29, 2014 14:56
A couple from Crewe have spent over 20 years visiting graves of fallen soldiers from the Cheshire Regiment during World War One.
A couple from Crewe have spent over 20 years travelling to Europe to find graves of Cheshire soldiers who lost their lives in the First World War.
While most people look at headstones for graves after losing a family member or a close friend, Albert and Sue Jones from Crewe prefer to photograph and note down details about the Cheshire servicemen who died during World War One.
The couple's hobby has seen them visit around 1,200 cemeteries and despite their travels costing them a lot of money, the retired couple love visiting cemeteries and jotting down details of all the servicemen whose graves they discover.
Albert Jones told the Crewe Chronicle, "We do all the work here before we go over (to France or Belgium) so that when we get there we know exactly where we're going and we've got the plans for all the cemeteries."
Couple have tracked down thousands of graves
The British couple have tracked down thousands of graves from people who served in the Cheshire regiment and each grave that is discovered is then jotted down by Mr Jones on his spreadsheet.
He added, "These contain the men and the details we have found about them. Name, number, regiment, rank, date they died, age where possible, the cemetery they're in and the plot number. We also photograph the grave."
The couple estimate that each trip they make, which can sometimes be four times a year, costs between around £1,500-£1,700.
The pair were first drawn in by cemeteries during a trip to Tyne Cot in Belgium 25 years ago. After an emotional visit to the cemetery that has around 12,000 headstones dedicated to fallen soldiers and servicemen and women, they decided to track down soldiers from the Cheshire regiment.
Image Credit: Amanda Slater (flickr.com)