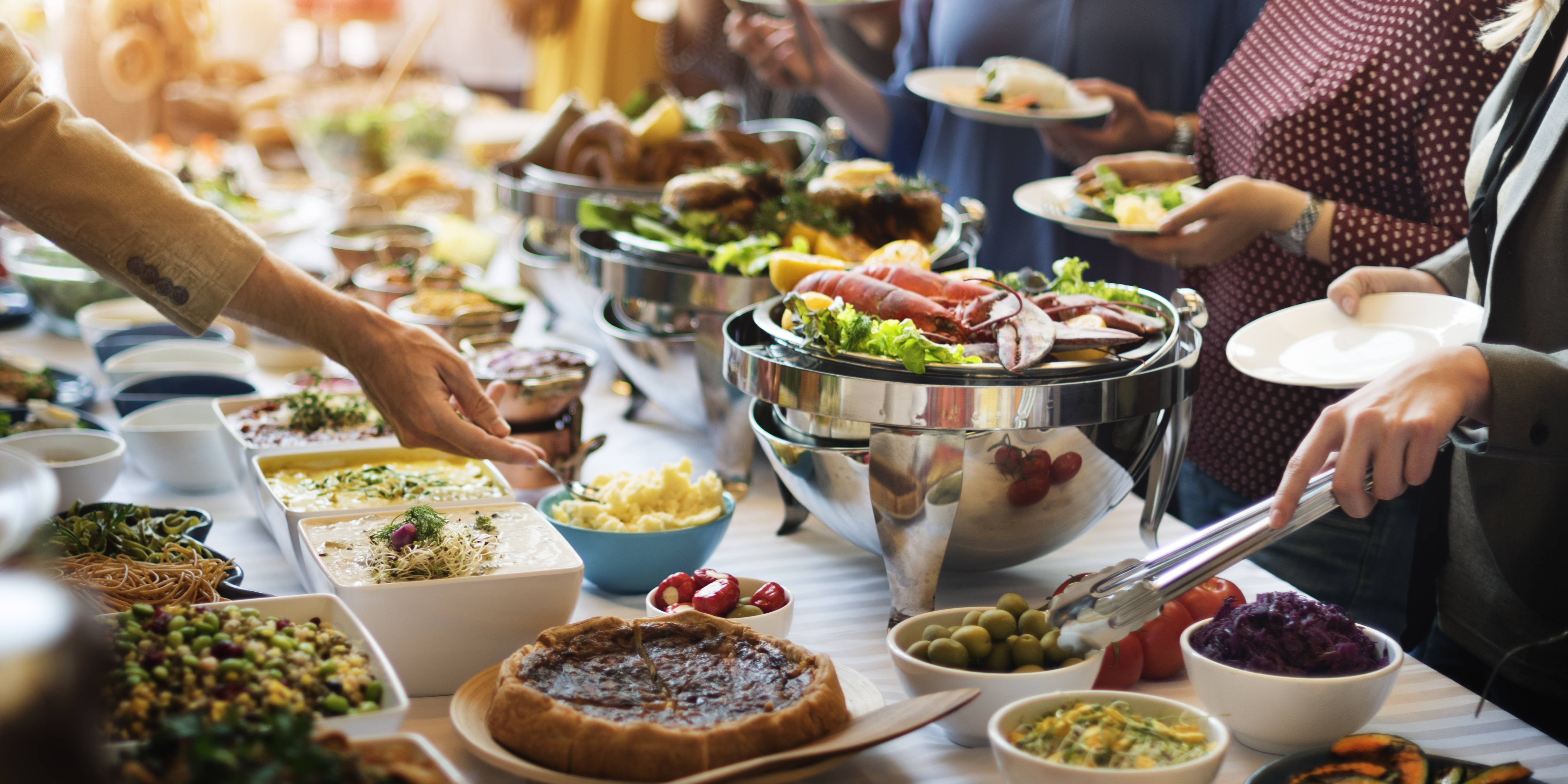 Food to serve at a funeral reception
Posted by AK Lander | On March 15, 2017 00:00
Deciding what to serve at a funeral reception can be a daunting prospect, so we asked funeral catering experts for their advice to help you choose.
If you are worried about what food you should serve at a funeral reception, there is no right or wrong answer, and almost anything can be served up if you wish. A reception or wake is an important time, one that brings together family and friends to remember a loved one's life and the memories made with them.
Whether you choose to host the reception at a local facility like a hotel or a restaurant or you wish to host it in your family home there are a number of options that can make the whole process a little easier.
Funeral caterers are great at organising a funeral reception without having to worry about any of the planning yourself. Telling them what you wish to include and the location is all you need to do, the rest can be left up to them.
In this article, we speak to funeral caterers and asked for their recommendations on what food or dishes to serve after a funeral.
A Buffet
A buffet is an easy way to cater to everyone's needs. Whether it is warm, cold or just a selection of your loved one's favourite foods, it is easy to prepare and simple to serve. Many catering companies recommend a simple buffet because it is a less formal way of presenting food, allowing guests to talk and reminisce about memories.
We spoke to Emma from Red Cherry Catering who always recommends a buffet at a funeral reception or a wake.
"We mainly provide finger buffets for funeral wakes, this is the more traditional type of menu as it caters for all, and allows people to stand and eat/talk without being too formal. Dependant on the location, we cater at people's homes, hotels, village halls etc. We always provide uniformed serving staff and try to make the organisation as stress-free as possible. We try to get a feel for what kind of funeral we are catering for and make a suggestion for the type of menu we recommend, dependant on the venue and of course the personality/preferences of the deceased."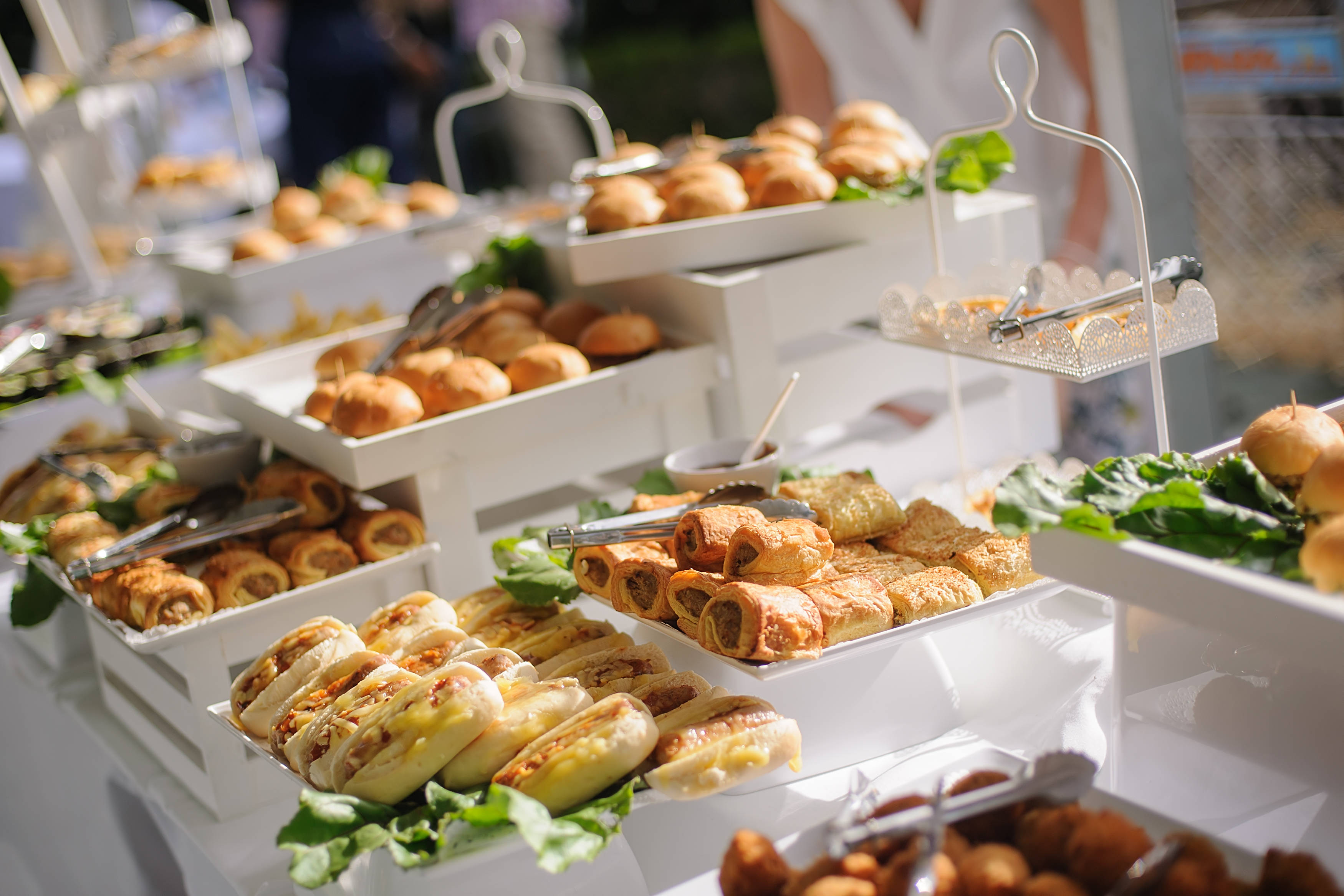 Finger Buffet
Arguably the most popular type of funeral food to serve at a funeral reception is a finger buffet because it is quick and easy to arrange. It is common to see scotch eggs, sausage rolls and slices of quiche served at a finger buffet as they are easy and quick to eat.
Careys Funeral Caterers are award-winning specialists and have been operating for over 26 years, they offer a whole host of menu options for funeral receptions. They spoke to us about their services and the virtues of serving a finger buffet on such occasions.
"We have found that finger buffets and afternoon teas work perfectly for funeral receptions. They are designed to accommodate a few extra guests and are not number critical, as it can be difficult to estimate guest numbers".
They said that a traditional finger buffet for them includes a selection of sandwiches, hot glazed cocktail sausages, quiches and Vol Au Vents among other items. They also serve luxury finger buffet which includes king prawns, smoked salmon, Yorkshire puddings, Cumberland sausage rolls, and fresh fruit kebabs.
Sandwich Buffet
Instead of serving a selection of foods, those who are planning the wake themselves will often opt for a simple sandwich buffet, which just includes a selection of house-favourite sandwiches that only take a small amount of time to prepare and can be made beforehand.
Careys also suggested a platter of sandwiches as they believe it is another great option for those looking to prepare something quickly with little effort.
Their finger sandwich selection includes fresh poached salmon and dill mayonnaise, traditional smoked ham and salad, free-range egg mayonnaise and cress, mature cheddar cheese and salad, tuna mayonnaise and salad, and free-range chicken mayonnaise with mixed leaf salad and cracked black pepper.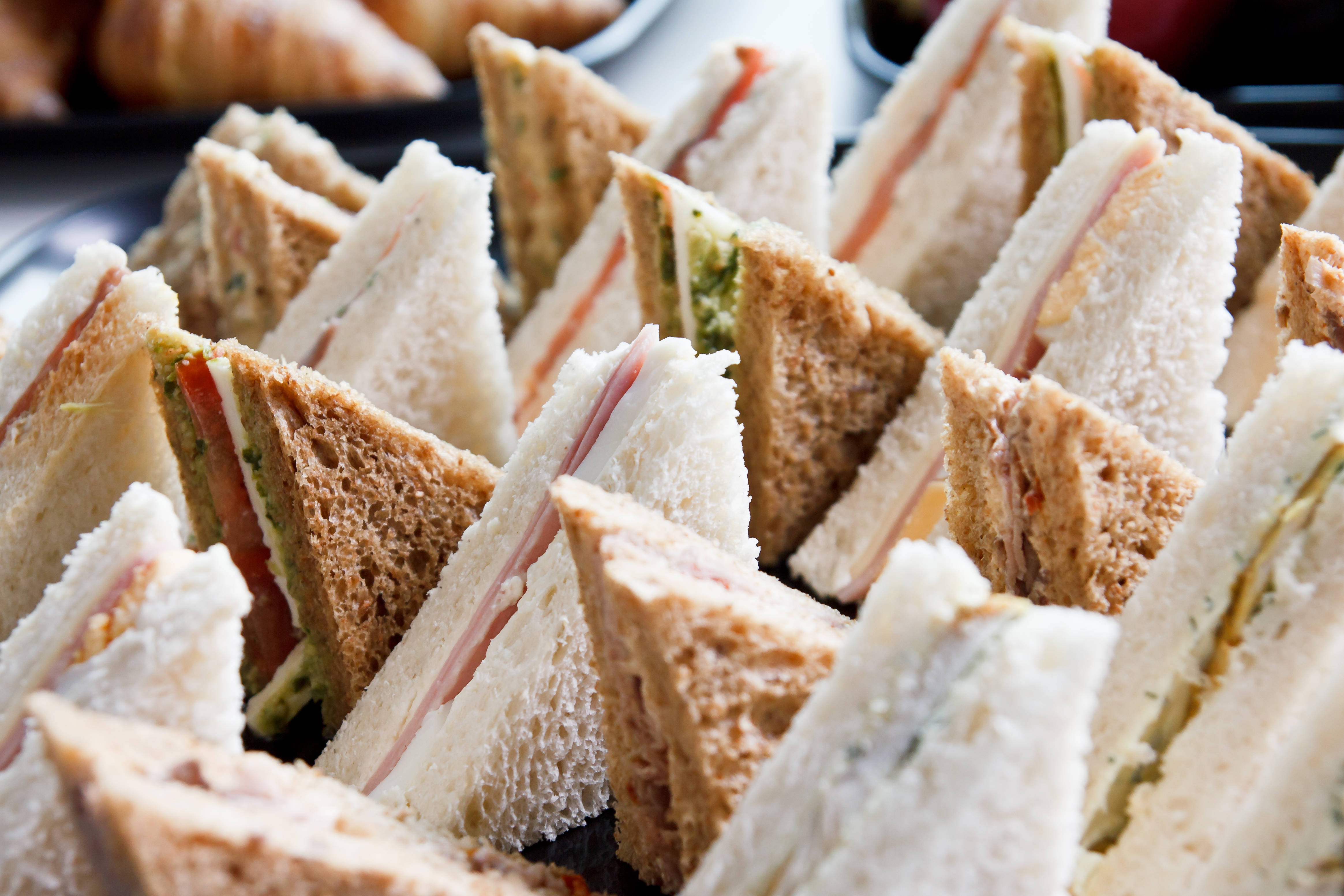 Hot Buffet
Careys also offer a hot buffet menu option as part of their funeral food service. Containing a number of fresh options like poached chicken breast in a cream and mushroom sauce, fresh salmon and prawns au gratin or homemade fresh vegetable lasagne, these options are great for those who want to host a more formal reception.
Anne Guy, a catering company that takes pride in its funeral services told us a little more about their funeral catering options.
"When a loved one dies there is always so much to do in a short space of time and we see our role as one of taking the stress out of organising food and refreshments for family and friends.
To make choices easy we offer a range of buffet menus that are suitable for lunchtime or afternoon tea and allow for different budgets. We also provide drinks, china, cutlery, glasses, table linen and professional, experienced waiting staff to look after guests.
Whether the venue is the family home or a village or church hall we will take care of everything ready for when the family returns after the service. We are very flexible and often incorporate a menu choice or a particular drink that was a favourite of the deceased - making it truly personal".
Afternoon Tea
"Occasionally we do provide afternoon teas too - which makes a nice change and is more appropriate for those wishing to have a more substantial meal. We provide vintage china with our afternoon teas which make a lovely addition to the menu - we can also provide this with our without prosecco." Says Emma.
Afternoon tea can make a nice change from traditional funeral reception etiquette, still simple to supply and easy and manageable to eat, it is a little more substantial and formal too.
Other Food's to Include
Whilst the above buffets are great meal ideas, here are some other foods that are also popular choices at a funeral reception:
Cheese board
Nothing is easier and simpler to execute than a cheese board. These nibbles are perfect to pick up and go and can be accompanied by a number of delicious condiments, like serving it with crackers, biscuits and a range of chutneys.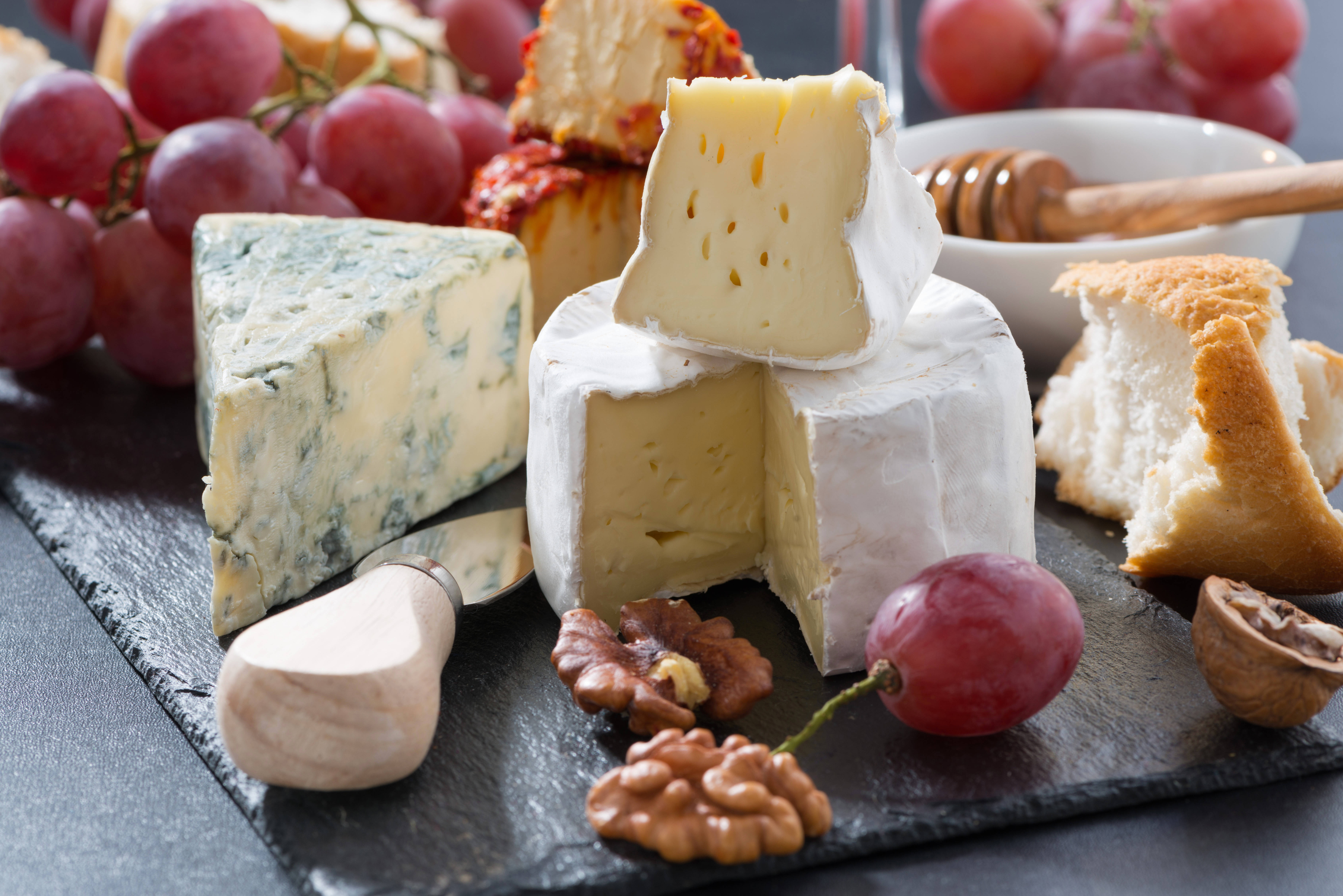 Scones
A little simpler and less filling than a full afternoon tea, scones are a really popular choice and accompanying it with jam, cream and butter will certainly go down a storm.
Vegetarian and vegan options
It is always important that everyone is catered for, so making sure you include vegan and vegetarian options is really important. Here are a few simple meat-free and vegan dishes that can be served at a wake:
Fried halloumi
Goats cheese sausage rolls
Stuffed peppers
Breadsticks and hummus
Deep-fried camembert
Salad
A staple of get-togethers and a tried and tested item on many funeral menus; a variety of shareable salads, from egg to potato, to coleslaw, these are easy to share and simple to eat.
Cake
Having a selection of sweet treats is also nice for those who have a sweet tooth. Serve a selection of mini cakes and pastries along with your savoury dishes for an even mix.
Tea and coffee
Tea and coffee accompany a buffet or afternoon tea perfectly and will be a comforting drink at a funeral reception, especially on those colder days.
A selection of soft drinks
Serving soft drinks alongside any alcoholic beverages you are supplying is perfect for those driving or for people who don't fancy having wine or beer.
Food to serve at a funeral reception:
A Buffet
Afternoon Tea
Cheese board
Scones
Vegetarian and vegan options
Salad
Cake
Tea and coffee
A selection of soft drinks
No matter what you decide to serve at the funeral reception to commemorate your loved one, there are plenty of catering and food options that'll make the whole process as easy as possible. If you need any advice or help when planning a funeral, like understanding what headstone to choose, our expert team can run you through everything. We offer a number of beautiful headstone options including granite memorials and marble headstones, so you won't have to make the decision alone. Just contact us on 0800 377 7057.