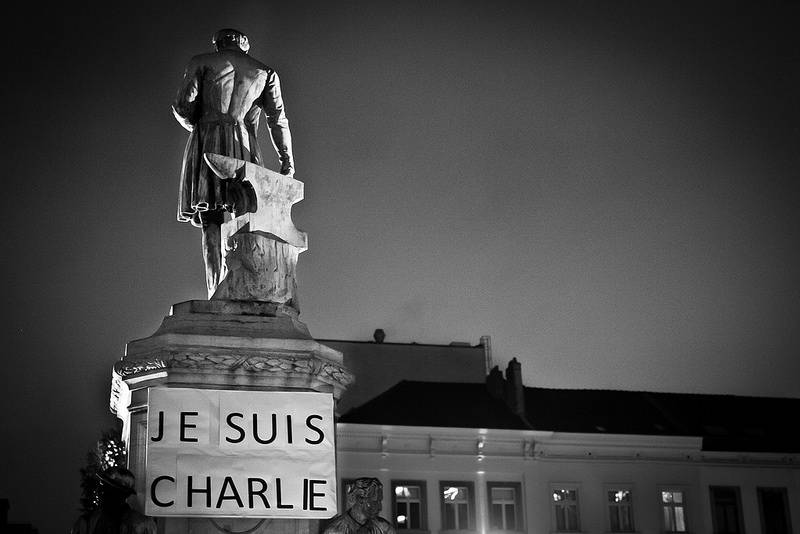 Grave acts as a moving Charlie Hebdo symbol
Posted by AK Lander | On January 8, 2015 08:45
The Charlie Hebdo attack shocks the world as cartoonists across the globe publish their tributes to the victims.
The Charlie Hebdo killings gripped the world on the 7th January 2015. With 12 people killed by masked gunmen in Paris, the world's reaction to the extremist action has been one of horror and disgust.
The media has insisted that they will not be intimidated by the attacks on French satirical magazine Charlie Hebdo, with Zurich publication Tages-Anzeiger publishing the headline "Martyrs for freedom of opinion". Underneath the headline a cartoon, much in the style of the French magazine, depicts two graves; one of Charlie Hebdo where a coffin is already laid to rest and one for freedom of speech where the coffin refuses to lie down.
'A shared human characteristic'
The artist uses the image of an engraved headstone for graves to depict what the paper calls 'a shared human characteristic' being 'hit in the heart: the freedom of expression, humour'. The cartoon in Tages-Anzeiger, which can be seen in this article, is one of many that have been produced in the wake of this tragic event, with cartoonists around the world paying their respects to the French victims who lost their lives.
New York Magazine, The Daily Telegraph and The Independent have each put forward drawings by their own cartoonists to support their French colleagues and the Twitter hashtag #JeSuisCharlie, translated as 'I am Charlie', has taken off with tributes and messages of support.
The image below shows a tribute that is thought to have been created by Bristolian artist Banksy, having been shared under a Banksy fan page, but has now revealed to have been created by London graphic designer and illustrator Lucille Clerc.
Yet the creators of such cartoons are not the important message here, but rather what they are saying. Clerc shared the image with the caption 'Break one, thousand will rise' and what seems to be clear in the aftermath of this tragedy is that everyone is hoping to stand together against extremism without blame or prejudice against religion or individuals.
Live updates on the Charlie Hebdo attack can be read in full on the BBC website.
Image Credit: Valentina Calà (flickr.com)