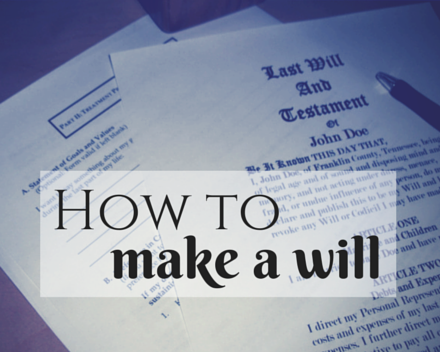 How to make a will
Posted by AK Lander | On February 10, 2015 09:39
Protect your family and those closest to you and make sure your will is written as it should be.
The thought of making a will is not a pleasant one for anybody, but it is a very necessary and important step to take to ensure that your family and assets are protected when the time comes.
A will not only names your executors, or those who look after your finances after you pass, but it also helps distribute your estate to those you intend for it to be distributed to and as you wish, as well as mitigating inheritance tax which can be astronomical without a will. This means that everything from your funeral and headstone to who gets ownership of your most prized possessions is organised in advance so that those who care about you are free to grieve without the added pain of sorting your estate.
There are two options when it comes to making a will. You can either do it yourself through a range of resources or enlist the help of a professional, but whichever method you choose, be sure to follow the process through to avoid passing intestate and having no control over the distribution of your assets.
Do it yourself
The government services and information website itself suggests visiting the Citizen's Advice Bureau for information if you are making a will yourself. Offering advice online and over the phone, they are an impartial solution to clear up any queries or concerns you may have about the process. Their wills section includes everything from why it is important to destroying a will, so be sure to look here ahead of rushing into anything. They also have information if you can't decide whether to create the will yourself or whether to use a solicitor, including cost information and whether it would benefit your estate.
Online will writing services are another option for those making a will themselves. There are will templates readily available on a number of websites, with some very professional options available at a fraction of the cost of using a lawyer. Lawpack is one such online service that has a DIY will product that will help you make a legally valid Last Will and Testament that comes with solicitor-approved will forms and guidance.
Free online legal advice website CompactLaw also has a number of free legal documents and will templates readily available for the public to use. Split into categories of Wills for Women and Wills for Men as well as those specifically for parents or who are married, it is the quick and easy solution if you feel confident in writing a simple will yourself.
Call in the professionals
If you don't feel 100 percent confident in making a will yourself, it is well worth bringing in professional help. Before turning to what could be a high cost option, such as solicitor or a bank, be sure to check whether you are entitled to one for free or at a relatively lower cost. Some trade unions such as the ASUWT teachers' union offer free or discounted will-writing services to those who are members. Alternatively check whether you are entitled to a will as a part of your home or car insurance.
Using a bank is one option for making a will. While this is a safe and secure option, be careful to check the charges for the bank performing the role of sole or joint executor as this can often be very high and usually involves taking a percentage of the value of an estate. Instead you can choose to appoint a trusted friend or relative, but check that your bank permits this ahead of making such plans. Most of the main banks perform these services, where initial research can be done online via their websites to search out the best service for your particular needs.
A solicitor is often the most common option despite the expense this can occur. This is because if you are making a will that is more complicated than the most basic of templates, for example you may share a household with someone you are not legally married to, then it is recommended to call in such professional help. A solicitor can write a legally valid will and often store it securely at no extra cost. One of the biggest reasons why many use a solicitor when making a will is that they can discuss their options face to face and feel assured that everything is taken care of. Another big reason for choosing a solicitor for this job is that all solicitors are regulated through the Solicitors Regulation Authority in England and Wales, and therefore, should the worst happen, you can turn to the Legal Ombudsman is anything goes wrong.
Solicitors and banks aren't the only professional will writing options. Many people choose dedicated will writing companies for making a will. While this is often a cheaper option, it should be noted that will writers don't have to be qualified or regulated like solicitors do, so to ensure you are making a safe choice check that the will writer in question is a member of a professional trade body such as the Institute of Professional Willwriters or the Society of Will Writers.
No single one of these options is better than any other; it all depends on what best suits you and your particular situation. When making a will be sure to involve those closest to you and get as much advice as is necessary before making anything legal to ensure you are making the right choice.
Image Credit: Ken Mayer (flickr.com), EDHAR (shutterstock.com)