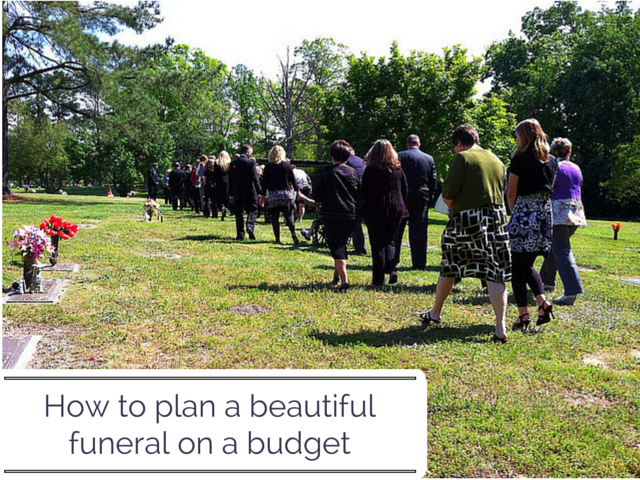 How you can plan a beautiful funeral on a budget
Posted by AK Lander | On January 20, 2016 11:28
The cost of funerals has risen considerably over the last half century, but these beautiful ideas can help you to fund a funeral on a budget.
Funeral costs have risen considerably over the past half a century, with burial plots, coffin prices and vehicle hire reaching unaffordable amounts for many. However, with memorial headstones, flowers and other ways in which you may choose to remember your loved one, confusing love for money can be easily done. That is why we have created a simple guide with ideas of how you can plan and create a beautiful funeral on a budget.
Choose a morning cremation
For those who have chosen to be cremated, the cheapest time to have the service is in the morning. Cremation services vary typically between £300 and £750 depending on the time of day. This in itself will leave you more time to celebrate the life of your loved one with friends and family at the wake after the service.
Image credit: Scott Akerman (flickr.com)
Church services and additional costs
Those who have chosen to have a church funeral service might not be aware of the additional costs that may not be included in the price, for example, organists to play music throughout the service. An alternative to this could be using a music player or asking a close relative or friend to perform a memorable piece of music. Not only is this cheaper, but also a lot more personal.
Image credit: kloxlox_com (Pixabay.com)
Ordering the coffin
Depending on the arrangements you have with your funeral director, there are cheaper alternatives when it comes to ordering the coffin. A good funeral director will be able to offer affordable prices, but some are known to make huge profits from your custom. However, there are some trustworthy coffin manufacturers who sell directly to the public, which could save you hundreds of pounds.
Image Credit: Stephan Ridgway (flickr.com)
Flowers
Apart from readings and personal messages of condolence, flowers can be a huge part of expressing your thoughts and love for the deceased. Dedicated florists may have the upper hand when it comes to arranging beautiful wreaths, but a personal approach by picking and creating a bouquet of flowers is another way to cut the cost of funeral arrangements.
Image Credit: Kaz Andrew (flickr.com)
Order of Service and Celebration Sheets
Having these designed, printed and folded can cost a large amount of money that could be useful for covering costs for other parts of the funeral. A great idea is to create your own, and with the help of family or friends, using a printer from home. This will give you the flexibility and originality of how you would like others to envisage the life of your loved one.
Image Credit: Ryk Neethling (flickr.com)
Memorial headstones
Memorial stones for graves can be one of the more expensive parts of a funeral, but the choice of materials such as granite and marble can vary in affordable prices and there are some memorial makers who have special offers. Engraving a sentimental message for others to see at the grave is a lovely way to convey your affection for others to see.
Image Credit: Bs0u10e0 (flickr.com)
The Wake
Many people would choose for family and friends to congregate in a pub or social club after the service. But having the wake at home would cut a huge amount of money off the cost. Making food and serving drinks that you know people will like in a familiar setting will also add comfort and warmth that people will appreciate.
Image Credit: Tony Alter (Flickr.com)