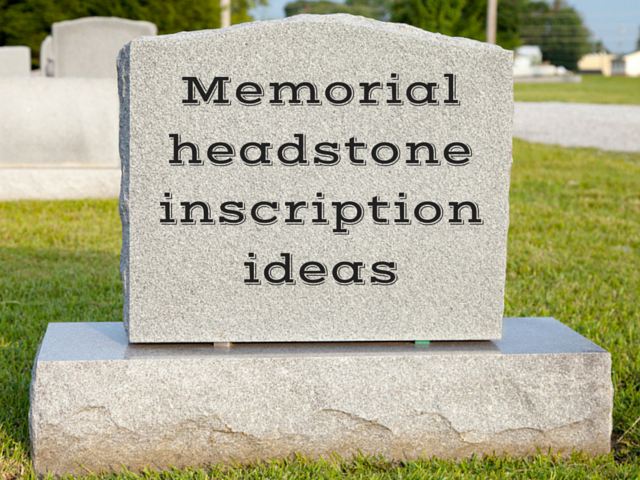 Memorial headstone inscription ideas
Posted by AK Lander | On August 28, 2015 15:56
Choosing a verse or epitaph to go on a memorial headstone is very important as it gives you the opportunity to say something loving and personal about the deceased.
Inscriptions on grave headstones can be about anything and the sky is the limit. It could be a short sentence thanking them, a prayer or something to say goodbye.
Here at AK Lander we know that deciding what to say can be extremely difficult. Following on from our guide to typography for gravestones, we have come up with some ideas and useful resources that might be able to help you decide what to put on the deceased's memorial.
A general epitaph
An epitaph is just a short bit of text that commemorates the life of the deceased in a general saying and is one of the most common choices for families and friends.
Examples can include something small such as "Earth has no sorrow that heaven cannot heal" or "Gone but never forgotten". An alternative that is also common is for short epitaph's to be combined to make a slightly longer one.
Epitaphs can celebrate the person's life or remember the devoted woman or man in his/her life and if the text is for a child's headstone then there are epitaphs for children too.
You can see some more examples of short epitaphs on the Your Tribute website.
An extract from the Bible
If the deceased was religious then another inscription idea that you should consider is to include an extract from the bible on the deceased's headstone.
It may be an extract from their favourite chapter, or a verse from the bible, which you could then give to the memorial manufacturer in order for them to engrave it on the headstone.
If you are unsure about what you could put then there are plenty of resources you can use such as the Bible Hub, which allows users to easily search the bible online.
Musical lyrics
If the deceased is a music lover then what better way to celebrate their life than by including some lyrics from their favourite song on their headstone.
Whether it's the Beatles, Queen, Tom Jones or Whitney Houston, this idea is a great and unique way of commemorating the person's life.
If you are unsure of the lyrics then you can easily check by visiting the A-Z Lyrics website. The site is a place where you can search for all different types of songs or artists and its ever increasing universe of lyrics from a variety of genres and ages.
Poems


A really thoughtful inscription that could also be included on a headstone is a poem.
It might be a poem that means something to the deceased or even a poem they have previously written.
Alternatively, if you are struggling to think of a general epitaph or want something a bit more creative then you should visit the Poem Hunter website. The site has a collection of poems that you can look through, including love poems, life poems, nature poems, beauty poems and lots, lots more.
Children's storybook or programme
If a child has sadly passed away, then a thoughtful inscription to include on a headstone might be taken from their favourite book or a phrase from their favourite children's programme could also be used.
Image Credit: William, Valdemar Fishmen (flickr.com)