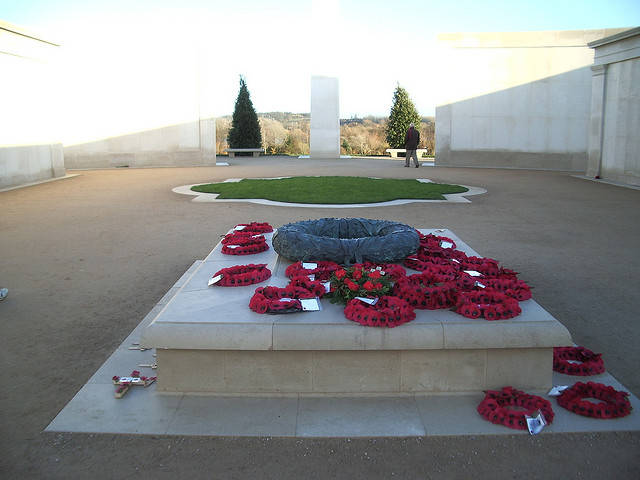 Murdered soldier Lee Rigby added to National Memorial Arboretum
Posted by AK Lander | On September 3, 2015 00:00
17 fallen heroes from the past calendar year have been added to the National Memorial Arboretum in Staffordshire
On Monday 1st September, Drummer Lee Rigby's name was added to a special memorial stone which honours fallen heroes from the Armed Forces since the Second World War.
The murdered soldier was one of 17 names to be added to the National Memorial Arboretum this year, which now commemorates more than 16,000 people who have died on duty. The service also included tributes to three SAS soldiers who died in the Brecon Beacons during training, and two RAF officers who died in the Cairngorms following an avalanche.
Over 180 family members attended the ceremony to watch their loved ones' names being etched into the memorial, before laying wreaths in their honour. Drummer Lee Rigby's son, who turned four on the day, attended the service in Staffordshire with his family to pay tribute to his late father. Following the service, families of those being remembered joined military top brass for a private ceremony at the arboretum.
Drummer Lee Rigby was murdered in May 2013 during a brutal attack outside Woolwich Barracks in London. Two men, Michael Abedowale and Michael Adebolajo, have both since been convicted of his murder. Prior to his death, the soldier assisted with duties at the Tower of London and was working for the 2nd Battalion the Royal Regiment of Fusiliers.
Each year the ceremony takes place to remember servicemen and servicewomen who have been killed on duty the previous calendar year. This year's memorial took place in the same year as the commemoration of the start of the First World War, highlighting the importance of remembering those who have sacrificed their lives.
The government is thought to have committed to fund the National Memorial Arboretum through to the end of the next parliament, following an announcement by David Cameron that £1 million would be used to maintain the memorial of Armed Forces personnel who have been killed in conflicts.
Image Credit: Charlie Dave (Flickr)