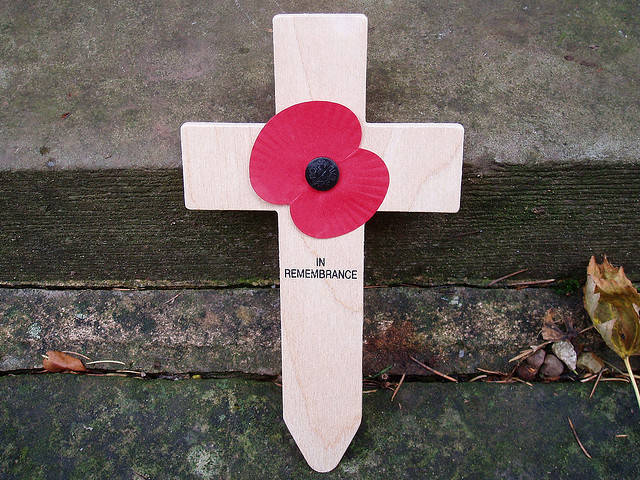 Mystery messages left on Australian soldier's grave in Cromer
Posted by AK Lander | On December 29, 2014 15:52
A man who looks after war graves in Cromer has been surprised by unknown messages left for an Australian soldier who died 97 years ago
A man who looks after the war graves in Cromer Cemetery has noticed that an Australian memorial headstone has been left mystery messages.
Belonging to the late Private Albert Harris, who was buried alone in foreign soil during the First World War, the grave has since received flowers and crosses almost 97 years after his death. David Rowley, who looks after the grave, noticed a carefully-placed cross, which bears the message 'Bert, remembered in Cromer and in Australia', and decided to investigate further to find out more about the soldier.
Crosses and flowers regularly placed beside the Australian soldier's grave
Rowley has since tried to track the former soldier's family, but has so far had no success and has also never seen the unknown person who leaves behind the messages. However, he has discovered that the soldier was born in Benalla to Catherine and William Harris, and became Australian Infantry 8th Battalion private 5392 when living in Wangaratta, Victoria.
He also managed to find out about Harris' fate during the First World War, and found records that reveal the soldier was injured in France with a serious leg wound. His leg was then amputated and he was brought to Cromer, where he later 'peacefully' passed away due to damaged kidneys.
The grave is located more than 10,000 miles away from his wife Ada, who had lived in Victoria, and Rowley is unsure whether the person leaving the messages was a descendent of his, or someone in England that has been contacted by potential relatives in Australia.
Rowley has since called for the mystery messenger to come forward, in the hopes that he can find out more about Private Albert Harris. He believes that the unknown visitor to the grave must visit during the night, as he has never seen them in the Cromer Cemetery.
Image Credit: Amanda Slater (Flickr.com)