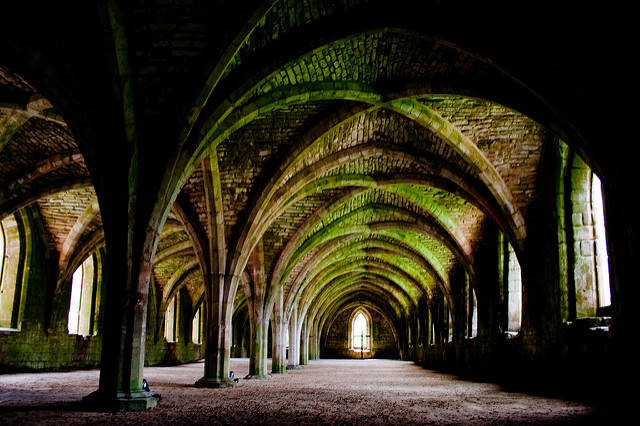 New technology reveals 500 graves beneath abbey
Posted by AK Lander | On December 15, 2016 16:32
National trust two year operation draws to a close with discovery of over 500 graves beneath one of England's largest monasteries.
The site of the Fountains Abbey was initially built by 13 Benedictine monks from York seeking a simpler life in 1132. After settling close to the River Skell near Ripon, the original gathering introduced lay brothers (labourers) to their order and thus the small community flourished. The monastery remained important through years of hardship until it was closed down abruptly in 1539 with the Dissolution of the Monasteries ordered by Henry VIII.
For the past two years the National Trust has been working closely with experts from the University of Bradford, Geoscan Research and Mala Geoscience in order to explore the ruins. Believed to be one of the largest monastic sites in the country, the technology has not only managed to locate the graves, but has also shown the formation of the burial chambers that sheds light on the order's theological beliefs.
The existence of the monks' cemetery has been known for years after Victorian workmen uncovered graves in several tiers. However, not been until now that people have people become aware of the full scale and layout of the burial area beneath this historic site. Due to the ruins pre-dating the use of traditional headstones, it has been hard to exactly locate the cemetery and therefore appreciate the scale.
Analysis of the images indicates there could be up to four bodies in each grave cut, meaning the original estimate of 500 could be very conservative. Due to the difficulty in detecting burials using geophysical techniques, the discovery in Ripon is both extraordinary and important, as it connects the abbey back to the people who once inhabited it, and provides archaeologists with one of the most complete graveyards yet to be uncovered. With some of the bodies believed to have resided there for over 800 years, it is unlikely they will be disturbed any time soon.
Image Credit: deargdoom 57 (Flickr)