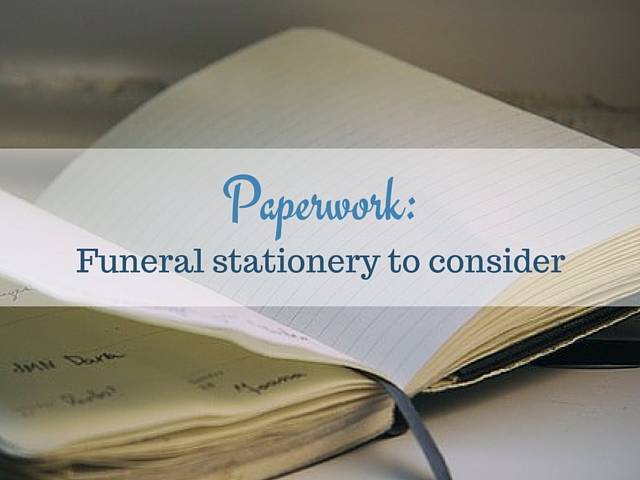 Paperwork: Funeral stationery to consider
Posted by AK Lander | On January 27, 2016 16:22
From sympathy cards to condolence books, funeral stationery can add a personal touch to honouring their memory
Sometimes what's written can express a heartfelt message more authentically, where words are too painful to deliver. As is the case with the carefully chosen text we choose to place on memorial stones for graves.
Likewise, including stationery when organising a funeral, is a simple way to make sure you share fond memories of your loved one with those attending.
From sympathy cards to condolence books, there's a number of ways stationery can add a personal touch to honouring their memory.
Offering condolence
As a guest, you've likely already sent a card offering your sympathy but while the shock of having just lost a loved one remains, these cards can often be missed by the family and finding another way to express your solace can let them know you're there for support once the stress of organising a funeral eases.
For families, providing a book of condolence that guests can sign after the ceremony can serve as a great source of comfort down the line. Sarah from the bespoke gift suppliers Oh So Cherished, explains:
"Condolence books are such a wonderful addition to any funeral as they keep a lasting memory of the lovely comments of friends and family in one place. And many people just want to be able to say one last word."
Often simple in design, a classic book of condolence doesn't distract from the purpose of the day but will give guests an opportunity to write a short message which will, in time, turn this book of personal memories into a treasured keepsake for years to come.
Offering a varied range, Oh So Cherished's range includes a Loose Leaf Book of Condolence, perfect for those who wish to add separate photos or documents that will help this memento to serve as a precious reminder of a loved one.
Marking the day
The announcement notes have been sent, relatives and friends have written thoughtful empathy cards and now the day of the funeral has arrived. While families may choose to include a host of other stationery at the funeral, generally it is accepted that there will be an Order of Service to guide the ceremony.
Conventionally, the Order of Service will feature details of the funeral such as the date and place it is being held and any prayers, hymns or poems being read on the day – should a guest want to keep it as a reminder. The rest depends entirely on how the family wants to honour the person they're saying a final goodbye to.
Funeral Stationery 4 U, for example, provides a template online to help people design their perfect Order of Service without frustration and with limited time, can deliver the finished booklets with an exceptionally quick turnaround. The memorials printing specialists have adapted as more and more families choose to create a truly individualised commemoration.
Alec of Funeral Stationery 4 U has seen more people go online direct to businesses like theirs to find their Order of Service and believes that:
"The reason sites like ours are so popular is that customers are looking for something way more elaborate than the old name, rank and serial number designs which Funeral Directors offer. To be fair, they aren't designers and neither can they print on heavyweight card and make multi page booklets like we can."
The Order of Service is nearly always an opportunity to personalise the funeral and so it might have an anecdote about them, with accompanying photos, or perhaps a favourite phrase. Today companies specialising in funeral stationery are prepared to fulfil any request asked to help relatives celebrate their loved one.
After they've gone
Funerals are a highly emotional event and from the initial shock and the busy lead up to the day, it can all pass by in a bit of a haze. It's only after, once the family has had time to reflect and the pain of losing someone has lessened, that they may wish to have something that acts to remind them of the people who came to pay their respects and more importantly, the loved one themselves.
Inspired Goodbyes is helping people keep the memories with some innovative stationery ideas that aim to celebrate their loved one and provide comfort. One such bereavement gift is the Your Personal Goodbye. A special keepsake that comes with a message tube, pens, cards and a pewter infinity symbol pin, it can be used either at a funeral or afterwards to record consoling thoughts and anecdotal messages.
Helen from Inspired Goodbyes explains:
"Your Personal Goodbye is a product that we have created ourselves and it came about because we thought being able to send a private note of message along with someone you love would be helpful and cathartic. A way to say what you may have left unsaid. We want it to perhaps become a lovely ritual where family come together before a funeral to write their messages together."
The company is also helping relatives and friends remind the family that they're there for support long after the funeral. Inspired Goodbyes' seasonal cards can be a source of comfort for someone about to experience their first Christmas without the loved one, for instance, and their general sympathy cards are a world away from the standard white lily print - instead offering empathy with a subtle design and genuine message.
Whether you choose to keep things simple and stick to the traditional Order of Service or create a unique send off for your loved one, there are plenty of stationery options that can help to set the right tone at the funeral and celebrate the memory of that important person.