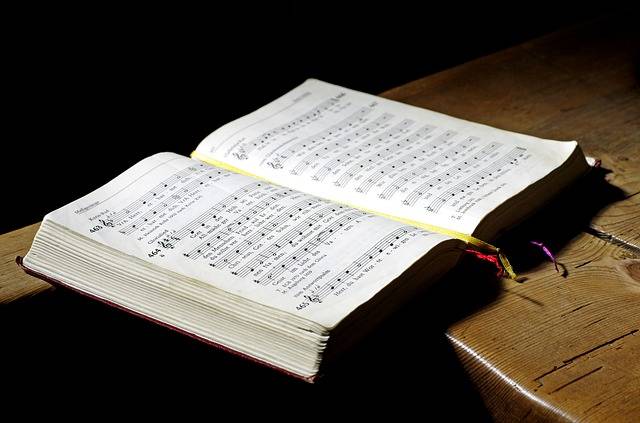 Selecting the right funeral hymn
Posted by AK Lander | On August 26, 2016 15:20
There are many parts to consider in planning a respectful funeral service. When planning a funeral, families must decide about method of burial, flowers, the type of memorial gravestone and more.
To fully honour the deceased and show appreciation for their life, the selection of music – especially hymns – is a key component to a special service.
To help in selecting the right funeral hymns for your loved one, here are some helpful tips in understanding the vast catalogue of musical offerings to make the right choice:
Popular hymns
A few years ago, the BBC surveyed much of the country to determine the nation's top hymns. Songs of Praise continues to be one of the network's most popular programmes and features some of the country's most popular hymns.
Here is the most recent results of their survey of the UK's Top 100 Hymns.
The top 10 hymns included:
1. How Great Thou Art
2. In Christ Alone
3. Be Still, For The Presence Of The Lord
4. Dear Lord And Father Of Mankind
5. Here I Am, Lord (I, The Lord Of Sea And Sky)
6. And Can It Be
7. Abide With Me
8. Guide Me, O Thou Great Redeemer/Jehova
9. Make Me A Channel Of Your Peace
10. The Day Thou Gavest, Lord, Is Ended
"Choosing the music for a funeral can be difficult – and in the end it has to be down to personal taste," says Brian Clegg from Church Music and Hymn CDs.
"Often a traditional hymn can provide a comforting part of the service. Singing a hymn really helps bring a funeral together – it is worth finding a hymn or hymns that really work for you."
Clegg says that hymns, such as Abide with Me and The Day Thou Gavest Lord Has Ended, are popular hymn choices for a funeral.
He added hymns based on the 23rd Psalm – The Lord's My Shepherd and The King of Love My Shepherd Is – work well too.
A number of hymns have recently started to be used frequently, he says. Going Home, using the familiar tune of Dvorak's New World Symphony is now popular, as is I Vow to Thee My Country, particularly for funerals with a military connection.
Other music to consider
Hymns are traditional songs – often with a religious foundation and meaning – that help families and friends pray during the service. Although usually Christian in focus, the use of traditional hymns can feature alongside popular music and contemporary tracks.
"Nowadays in funeral services people often have a combination of hymns and perhaps also listen to a recording of a favourite track of the deceased," says Marie Page, director of Musicademy. "Angels, My Way, Tears in Heaven, Wind Beneath My Wings and You Raise Me Up are particularly popular."
At Musicademy, they have compiled a "crowd-sourced" list of traditional hymns, contemporary Christian songs and the most popular secular songs for thanksgivings and funerals.
Tips for choosing funeral hymns
How many hymns to choose
Usually a service will have two or three hymns.
Think about family preferences
In many families, there are often specific hymns that hold significance.
"A funeral is a trying time for all involved, so extra care should be taken when planning the music for funerals so that it provides needed comfort by inviting the Holy Spirit," says Roger Pack from Free LDS Sheet Music. "Often, family members of the deceased will have a strong preference as to which hymns are chosen."
Take into consideration any preferences the family may have, including asking if there are any hymns they would prefer not to have sung.
What the hymns should be about
Brian Clegg says that it's good to include a hymn that is about giving thanks and reflecting on the life of the loved one. Good examples of that would be Now Thank We All Our God and Thine Be the Glory.
It's a good idea to listen to the music in advance to get a feel for the sound of the hymns. The Hymn CDs website has an album of accompaniments for funeral hymns.
Roger Pack's advice is: "When selecting hymns, remember that a funeral, while sorrowful, can also be a chance to teach or reinforce gospel truths about the resurrection, Christ's atoning sacrifice, and eternal life beyond the grave."
If the hymnbook used during the service does not have a section dedicated to funeral hymns, hymns teaching of Christ's life and mission can provide hope to those who grieve, he adds.
Singing of hymns
Page says one tip on selecting hymns in particular is to ensure the recording is in a sing-able key. People tend not to belt out songs at a sombre occasion, which means that they will struggle to hit high notes they would have no trouble with in a football crowd or karaoke evening.
The top D note is fairly comfortable for both men and women, she says. But if a hymn goes much beyond that, particularly for a sustained period, it will be a struggle for many – particularly the women whose comfortable top note is typically lower than most men, Page says.