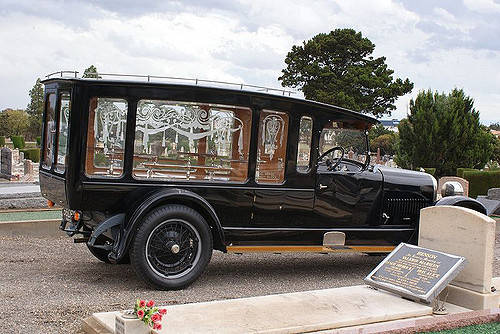 The most beautiful hearses and limousines
Posted by AK Lander | On February 8, 2016 15:24
Purchasing a beautiful hearse or limousine in funeral transport is the perfect way to create a wonderful send-off for your loved one.
Amongst the other parts of a funeral arrangement that need to be covered, such as flowers, coffins and memorial headstones, picking the right transport is important – this is the beautiful final journey to the chosen resting place. Although your funeral plan may include a hearse and limousine, if you are arranging the funeral for your loved one yourself it's important to choose the right transport to make the send-off as memorable as possible.
Here are some styles and designs of hearses and limousines to give you a little inspiration for when the times comes.
The history of the hearse
The hearse has been a traditional symbol of funerals. Originally horse-drawn, the transport has always been a beautiful and sombre sight when taking the last steps with your loved one. Nowadays, there are a wide variety of the more traditional styles of transport, or the more alternative such as side-car hearses and VW campervans. Today, Mercedes-Benz supply most funeral directors' hearses and limousines in the UK. The modern fleet are designed in the 'limousine style', which proves the most popular, with respectful narrow pillars and big glass window panes.
Beautiful hearses and limousines
This elegant 'duel-cab' Holden Commodore hearse is a traditional style that is used in Australia. A 'duel-cab' hearse is one that still has both back passenger doors and five seats inside, so some of the family as well as the directors are able to travel to the final resting place together. It will add comfort, both physically and emotionally, for you and your family.
Image Credit: TOSOF (commons.wikipedia)
Horse-drawn carriages add a hint of tradition and come in many different colours according to your specific requests. There are many companies across the country that supply these beautiful hearses and cater for every funeral need. Horse-drawn hearses allow you to remember your loved one in an artistic, refined and traditional way.
Image credit: William Murphy (flickr.com)
Imaginative and truly beautiful, the use of a small steam engine as a hearse can represent your loved one's creative personality or if they were remembered for their love of cars or steam engines, a great tribute to their passion. This magnificent hearse will put a smile on the faces of those who will remember them.
Image Credit: Terry Whalebone (flickr.com)
For those who are thinking of something a sophisticated yet simple style when choosing a hearse, the limousine proves to be the most popular in the UK and is perfect for a beautiful send off. The ability to display the flowers, both on the side next to the coffin and on top of the car, creates a wonderful window of remembrance.
Image Credit: Cory Doctorow (flickr.com)
A more alternative approach to funeral transport is this exquisite motorcycle hearse. For those who are wanting to be remembered for their love of bikes, this is the perfect tribute for them. Sitting next to your loved one as you travel for the last time together will also leave you with a special and unique memory.
Image Credit: Ponyegg (commons.wikipedia)
Main Image Credit: Sydney Oats (flickr.com)