The UK's most interesting unmarked graves
Posted by AK Lander | On October 19, 2017 15:11
It is hard to overstate how important a symbol the humble gravestone is to millions of people across the UK and all over the world. When we suffer the trauma of losing one of our closest relatives or friends, being able to visit a memorial to the person we loved is among the only things that can create a degree of comfort and go at least a little way towards helping us cope with our grief.
However, it is sadly the case that, for many centuries, countless people throughout the world have never been given the permanent memorial they deserve after passing on. There are, of course, many reasons why this can happen: the victims of war often go without proper commemoration, largely due to the tumultuous state of the country in which they meet their ends. It was also normal in the not too distant past – before cremation was common practice - for poor people to be buried in mass unmarked graves in huge urban cemeteries, simply because their families did not have the money to purchase memorials in their memory.
There are many graves throughout Britain whose inhabitants will sadly never be formally recognised. In this article, however, we will take a look at the lives of three people – each of whom achieved great but very different things whilst they were alive - who were initially buried in unmarked graves but have since been honoured with a fitting memorial by the people whose lives they touched.
Eric Liddell (1902 – 1945)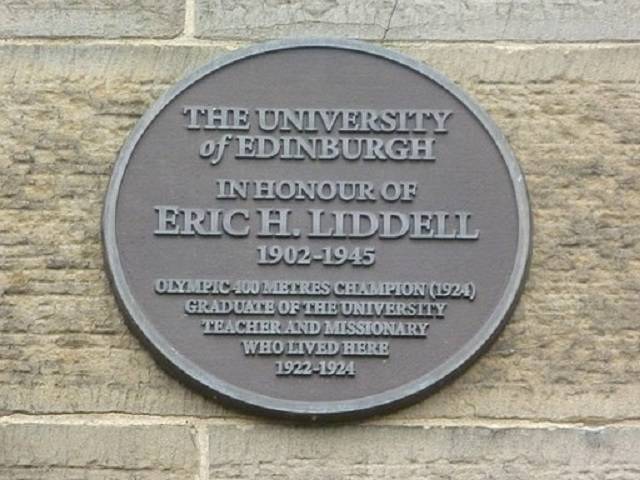 The first person we will discuss is unique to this article as, although he was a proud Scot, actually died and was buried many thousands of miles away from home.
Eric Liddell is perhaps best known to the modern UK public as one of the protagonists of the classic 1981 film Chariots of Fire. Liddell was a gifted athlete and all-round sportsman who won Gold representing Great Britain in the 400 metres at the 1924 Paris Summer Olympics. One of the most fascinating aspects of his success is the fact that he only competed in this race because it was held on a weekday; as a devout Christian, he had refused to participate in the 100 metres race (his favoured discipline) because its heats were held on a Sunday.
Liddell was born in China, always retaining strong links with the country (his parents were missionary teachers there, and he would later follow in their footsteps), and this is where he would die at the age of just 43.
During the Second World War, Liddell was interned in the notorious, Japanese-run Weixian internment camp and eventually died of a brain tumour in 1945, less than six months before the camp was liberated. Like many of his fellow internees, Liddell was buried in a grave marked only by a small wooden cross, which inevitably disintegrated over time.
Amazingly, however, the work of a team of admirers (including the Hong Kong-based engineers Cheng Hon-kwan and Charles Walker) and his family led to the grave's discovery. Once the location of Liddell's body was established, it was not long until a fitting memorial had been erected in his honour. Funded by Edinburgh University, the headstone features the following inscription:
'They shall mount up with wings as eagles;
They shall run and not be weary.'
- Book of Isaiah, 40:31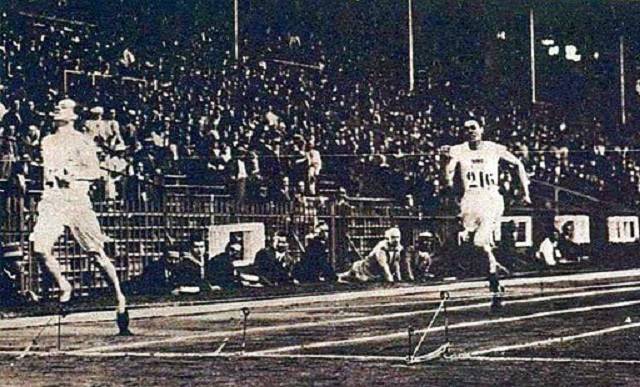 Liddell's memory is also honoured in a way which can be tangibly enjoyed by the residents of Edinburgh, the city he called home when he was based in the UK. The Eric Liddell Centre describes itself as a "local care charity and community hub", and its activities are a true reflection of the many virtuous qualities this truly extraordinary man exhibited during his lifetime. We were delighted that the centre took the time to share some details with us about what its staff and volunteers do to help many of Edinburgh's most vulnerable people on a daily basis:
"We are dedicated to fulfilling his legacy by inspiring, empowering, and supporting people of all ages, cultures and abilities, as an expression of compassionate social values. Since we were established, we have developed many valuable services:
Providing a weekday day care service for up to 70 people living with dementia with 'excellent' inspectorate ratings
Initiating and growing our Befriending Service which supports carers across the City of Edinburgh
Providing affordable office space for 10 small and developing charities
Helping to change the perceptions of living with dementia, disabilities and mental health issues by showing that a full life can still be lived with the right support
Providing volunteering opportunities to a wide range of local community members, including young people from neighbouring schools and people with additional support needs
Welcoming an average of 2,000 weekly visitors of all ages to our range of community based classes including yoga, Pilates, martial arts, music and gymnastics for toddlers
Supported the development of a hospital discharge project for the elderly to encourage their increased uptake and participation in locally based community services"
To find out more about how the centre continues to ensure Liddell's legacy will never be forgotten, simply visit their website.
Alice Hawkins (1863 – 1946)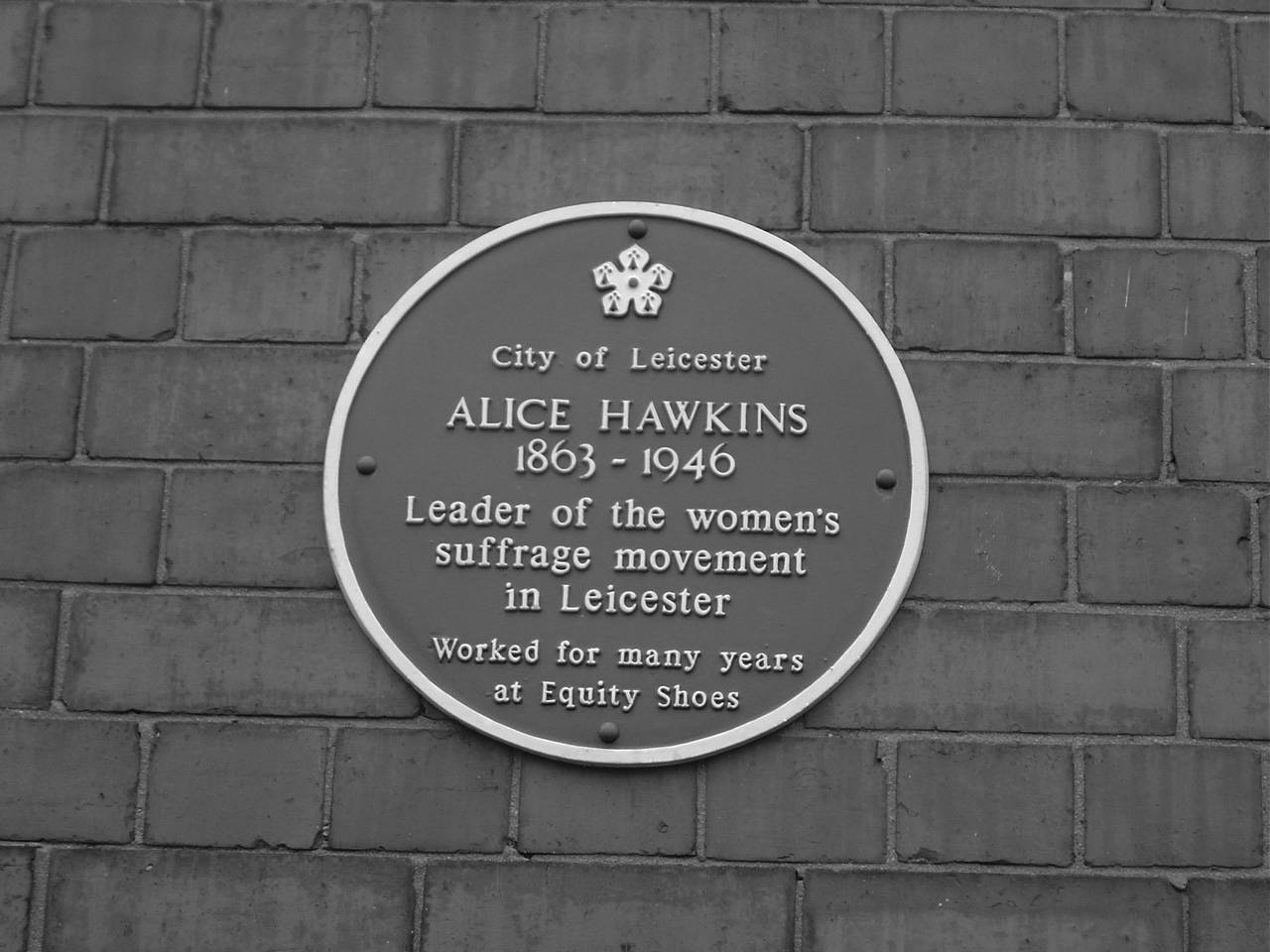 The determination of a proud family to ensure their loved one is given a suitable and lasting memorial is also at the centre of our next story, which concerns the inspirational, Leicester-based suffragette Alice Hawkins.
A shoe factory worker, Hawkins rose to become a hero of the women's rights movement which gained widespread support in the early 20th century. Now, a hundred years later, the important part she played in the march towards equality is once again being recognised, thanks to the efforts of her descendants.
We were grateful to Alice's great-grandson, Peter Barratt (who runs a website dedicated to Alice's memory), for sharing with us the story of how his family's sterling efforts led to her finally being honoured with the service and permanent memorial her life warranted:
"My great-grandmother, Alice Hawkins, was a mother of five, a shoe machinist by trade who campaigned throughout her life to improve the pay of women who worked in the shoe factories in our home town of Leicester. A strong willed women and frustrated with the lack of progress, Alice became a suffragette in 1907 and went on to be imprisoned five times in her campaign for 'the vote'. A working class lady, Alice formed the local branch of the suffragette movement and knew the Pankhurst sisters well.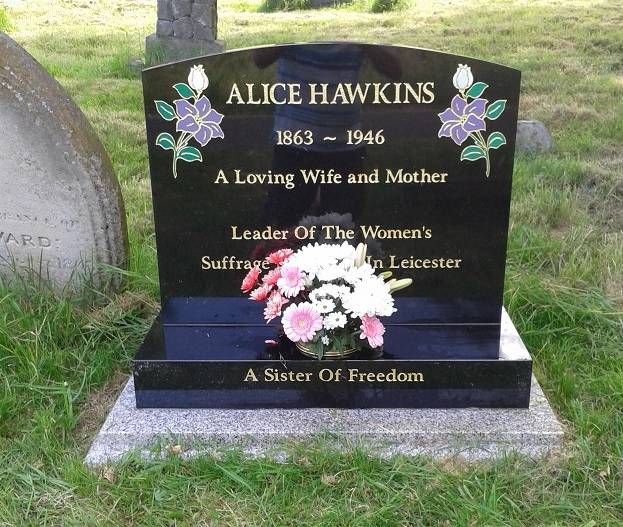 "Alice died in 1946 and was buried in a pauper's grave in Welford Road Cemetery, Leicester. Upon looking through my late mother's personal effects some six years ago I came across a document stating that my grandfather had purchased the grave plot where Alice was buried and, upon visiting it for the first time, saw that no headstone was in place. Whether this was due to the fact that there were six people buried there in total, or whether because money was short, I will never know but decided there and then to have a headstone placed upon her grave.
"And so in September 2012, some sixty-six years after her death, a headstone was finally placed upon Alice's grave. On the day, there was a short service at the graveside and, as a choir sang 'Nana was a Suffragette', the surviving grand-daughters placed Alice's very own suffragette sash upon the headstone."
"A very fitting tribute to her lifelong campaign for women's rights."
Julius Caesar (1830 – 1878)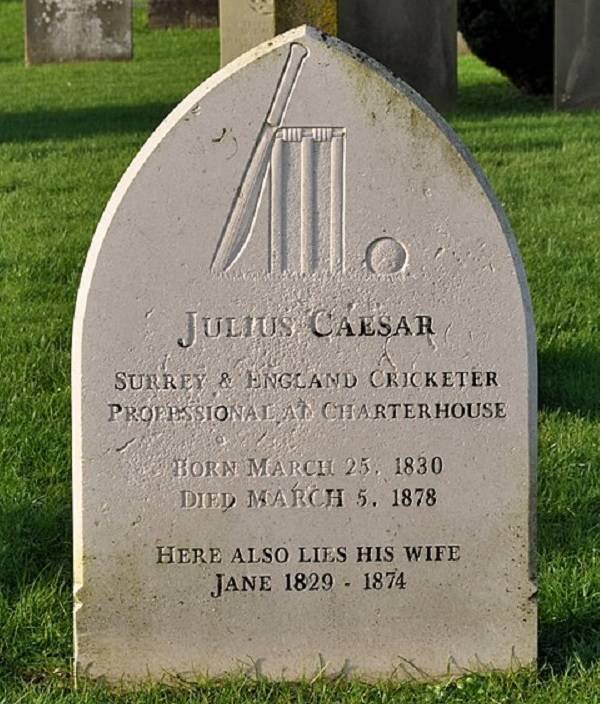 Our final section is dedicated to a talented cricketer who is regarded as one of the game's most influential early figures but whose personal life was filled with tragedy and whose passing was sadly not accompanied by the erection of any kind of gravestone.
The intriguingly-named Julius Caesar was born and died in the Surrey market town of Godalming. Caesar represented his county and England nearly 200 times between 1849 and 1867, but his career started to go downhill after a hugely unfortunate incident in 1865 which involved him accidentally fatally injuring another man during a pheasant shoot.
Sadly, Caesar's life after cricket was no happier; his wife died suddenly in 1874 and, just two years later, his son committed suicide at the age of 17. These various hardships understandably took their toll on Caesar – who had reportedly long been prone to bouts of anxiety - and he died in poverty aged 47 in 1878.
Caesar did eventually have a gravestone erected in his honour – featuring depictions of, appropriately, a cricket bat, stumps and ball – but the following comments from Godalming Town Council's Acting Town Clerk, Andy Jeffery, detail how Julius is unusual in this regard. Unlike Caesar, we will never know the histories of most of the countless others who lie in unmarked graves, not just in Surrey but throughout the UK:
"There are hundreds of unmarked graves in both Nightingale and Eashing cemeteries. There are various reasons why a grave would be unmarked. Pauper graves were never marked - if the family could afford a grave marker the burial would not have been a pauper's burial! Many common graves were also not marked. A common grave is where the family could pay for the burial service itself but not afford to buy a private grave, as such a common grave would often have remains of unrelated people in the same burial plot. Even where a common grave had related persons often the family could not afford a permanent memorial. In the case of private graves, i.e. those that had bought exclusive burial rights to a plot, the family may just have chosen not to mark the grave with a memorial marker (headstone).
"Certainly one practice was to use a wooden marker, which of course would rot away over the years, so although marked during the lifetime of the deceased's immediate family, it would eventually look as though it hadn't been marked (there is a wooden grave marker in the Godalming Museum resource room).
"In the case of Julius, we can only speculate. He was buried in a common grave, although no other body was interred in the same grave. It should be remembered that his passing was not one of old age and the circumstances may be that the family either did not have the funds or want to mark his grave.
"Common graves are in the ownership of the burial authority, and the Godalming Joint Burial Committee did eventually decide to erect a memorial over his grave."