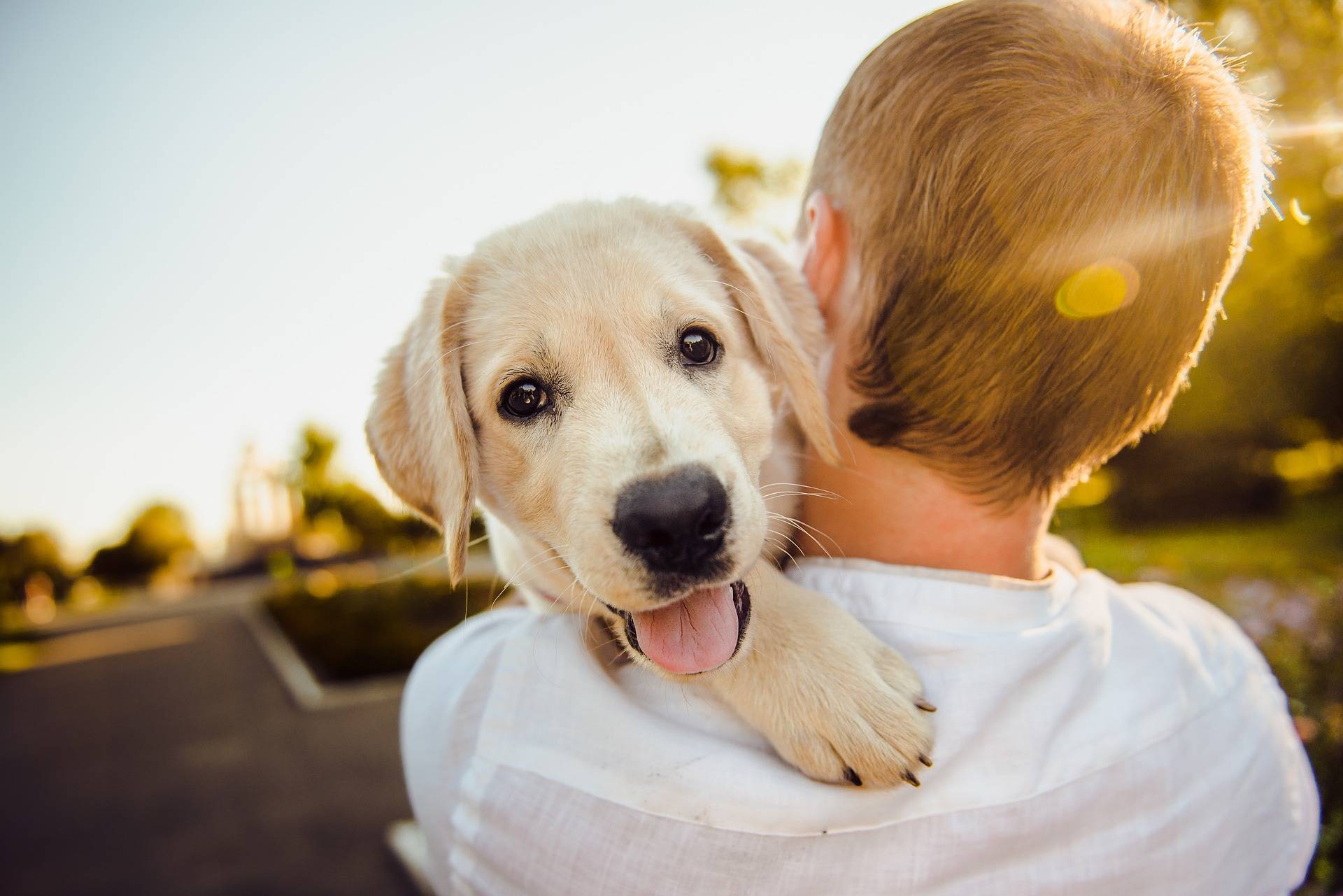 6 unique pet memorial and keepsake ideas
Posted by AK Lander | On September 26, 2018 00:00
We've put together a list of unique pet memorial ideas to help you honour and remember your beloved pet the way they deserve to be remembered.
Our pets are more than just company, they are part of the family. They enrich our lives by bringing us joy and offering a one of a kind friendship, which is why when we lose a pet, it can be a truly heart-breaking ordeal.
We've put together a list of unique pet memorial ideas to help you honour and remember your beloved friend.
1. Cremation jewellery and keepsakes
[Image credit: @megsav24, Instagram]
Many owners decide to seek out pet cremation services after the death of their pet, but did you know you can have your pet's ashes made into a beautiful piece of jewellery?
Ashes Into Glass is just one of several UK companies offering this unique service, and the results are beautiful. Have your pet's ashes turned into a beautiful crystal glass stone, which can then be fitted to a ring, pendant, cufflinks and more.
"Ours is not just a product, it is a bespoke service. Clients come to us because they trust in us. From first seeing our website, to receiving our ordering pack, to knowing where they have sent the ashes, to the care we give our clients throughout the whole process, to the finest quality finished product, beautifully packaged. Our clients know exactly how the items are made and where the ashes are kept. We are very open about our service and families have the option to come along to our workshop to see their items being made."
2. Pawprint keepsakes
[Image credit: Glenda Hickmott, Precious Memories]
Similar to a memorial headstone, a pawprint keepsake is a great way to honour your pet's memory. But there's more than one way to memorialise your beloved pet's pawprint.
Precious Memories offers a range of pawprint keepsakes, from bronze casts, to pawprint pendants, to framed ink prints. Founder Glenda Hickmott told us: "I know that pets are a huge part of the family, indeed for some people they are their only family. They have a place in your heart and when they pass away it is incredibly hard to deal with the pain. In fact, I have heard this said so many times and firmly believe that 'they leave footprints on your heart'.
"One story that sticks in my mind is a client calling me barely able to speak. She was telling me that her dog was only 6 years old and was in bed with her when he turned and had a heart attack – he was only 6 years old, it was such an unexpected shock. This lady did not have any other family Liefie was her best friend – her life.
"Liefie was over an hour away at a crematorium, but I drove there to meet this treasured pet and take a cast of his paw. From this, I created two solid bronze paw casts. The client had no idea what the casts would look like. When they arrived, my client could barely speak to me saying I had brought her cherished Liefie back home to her."
3. Fur jewellery keepsakes
[Image credit: Shpangle Jewellery, Flickr]
If you're looking for something a little different to remember your pet or you're not sure if you'd like to have them cremated, fur jewellery keepsakes are a great alternative.
Mick Cluley owns Shpangle, a company dedicated to providing stunning jewellery keepsakes for pet owners. "I have been creating and making jewellery for many years now after a long career as an engineer," says Mick in a blog post on his website. "I started helping customers who had lost pets and wanted to have a keepsake or piece of jewellery so that they had their pets with them always. Or provide a happy reminder that they could look at when they wanted to.
"And it wasn't just dearly departed pets either, I had a lot of customers who thought a piece of their pet's fur, hair and even feathers would also be stunning, from pets who were still very much alive and happy."
[Image credit: From The Tail Jewellery]
We also spoke with From The Tail Jewellery founder Helen Spendlove-Hilder, who specialises in bespoke horse hair jewellery and offers a range of braided pieces and resin pendants. "I started the business after losing a horse, a large (17hh) chestnut dressage horse from Germany, making a simple bracelet from his tail hair. It hadn't occurred to me to make this a business until friends saw it and asked for one, and another and another.
"Having worked in the funeral industry previously, I know all sorts of things can bring comfort to a bereaved person. Having part of that loved one or pet close by to hold or wear is quite an important part of the grieving process.
"The amount of emails and messages I get that convey how many tears have been shed, in a good way, means I know I'm doing the best I can to help."
4. Pet portraits
[Image credit: Melanie & Nicholas Pet Portraits]
If you're looking to encapsulate and portray your beloved pet how you remember them being, a pet portrait is great way to depict their character.
We spoke to Melanie who works alongside her husband, Nicholas, to commission stunning works of art in pencil or oil paint that will capture your pet in all their glory. Melanie told us about how they started Melanie & Nicholas Pet Portraits. "We started our pet portraits business many years ago! We both trained as wildlife illustrators, leaving art college 1994 and began creating artwork for books and encyclopaedias.
"We were also being commissioned privately through friends and family and word of mouth to draw and paint pets too. So much so that we both felt happier bringing to life dogs, cats and horses on canvas than working for publishers. We absolutely loved seeing the recipients faces when they received their portrait. Recipients would shed tears and it really meant a lot to us, so we started Pet Portraits by Melanie and Nicholas in 1996.
"Between us we have made many hundreds of customers happy over the 22 years we have been commissioning pet portrait artists. One client sadly lost their cat and missed them immensely. She asked if we would be able to add a whisker that she had saved to the drawing, along with writing the cats name in his ashes. We were thrilled to be able to do this for her. The actual whisker was glued into place as an actual whisker on the drawing and it worked beautifully.
"We receive so many heartfelt emails of genuine thanks for the time and care that we put into their portraits. Our paintings and drawings truly capture the pet's personality and characters which is absolutely crucial in our job. The portraits have to be exactly like the animals we portray. We have been painting and drawing for a long time and so we have the experience and knowledge in our craft to be able to do this well. We know ourselves how hard it is to lose a pet."
5. Memorial frames and boxes
[Image credit: Yewleaf Wishes]
If you're looking to display your pet's belongings, memorial frames and boxes are a great way to keep their most precious belongings safe all the while giving you a stunning memorial to remember them by.
We spoke to Adam from Yewleaf Wishes, who offer beautiful, handmade tributes in the form of box frames and memorial boxes. We asked Adam how the business got started. "We were inspired to start Yewleaf Wishes through our shared love of quality wooden gifts. We only really began producing pet memorials when we sadly lost our 18-month-old puppy, Cass. We were heart broken and wanted to find a way of expressing how dear she was to us, as well as being able to safely treasure her collar in a meaningful way.
"I can honestly say that creating her frame wasn't business related, but after we realised how much comfort it brought us, we knew that we had to make these available to other people who go through very similar experiences of loss.
"We always treat every customer with the upmost care and attention, especially when some of our customers have only recently had to say goodbye to their beloved pet. We make each memorial special, by ensuring that every attention to detail is observed. Although two people can order the same frames, no two will ever be the same, as each one is unique to that customer and that is what makes our job special and so rewarding every day.
"Creating pet memorials can be a challenge at times, emotionally, especially when we have dogs of our own and the thought of losing them is unbearable. But the joy and sense of purpose that you get from being able to take a customer's idea for a collection of keepsakes and turn that into a stunning memorial that they tell you they will keep forever is the best feeling ever."
6. Glass art memorials
[Image credit: Ashes With Art]
Similar to cremation jewellery, you can also have your pet's ashes encased in the glass used to create stunning works of art.
We spoke to Ashes With Art, who specialise in creating hanging art pieces (and jewellery too!). "Ashes With Art came to life 5 years after Siobhan Jones, our founder had set up her glass studio in 1997. A regular client who had tragically lost their daughter at a very young age approached Siobhan asking for a glass memorial to be made with the inclusion of their late daughter's ashes. The overwhelming joy and relief of the client upon seeing the finished piece inspired Siobhan to help more people who had experienced loss to be able to move forward with their lives in a positive and fulfilling way.
"The loss of a loved one is devastating and extremely difficult to come to terms with. Along with the positive of experience of choosing and receiving such a personal and meaningful keepsake, our biggest hope is that our pieces brings great comfort and reassurance each and every day."
[Image credit: Rainbow Bridge Hearts]
We also spoke with US-based company Rainbow Bridge Hearts who encase pet ashes in beautiful, swirled glass ornaments. We asked co-founder Rich where they got the inspiration for the company. "As a lifelong fur-family member, I wanted a way to help others to have a durable, affordable and personal everlasting way to remember their loved ones, without the sadness. The problem for many is the decision of burial or cremation. I wanted a way for families to use a small portion of the ashes that could travel with them forever. Taking away the stress of burying their loved ones at home and then having to move at some other point in their lives.
"Each story resonates with our entire team - tears are shed on a daily basis. Keeping in mind that many pets don't live as long as their Humans, we have done hundreds of repeat memorials for families that have lost many pets over the years. We wear this repeat business as a badge of honour and trust that was earned through compassion and understanding of what their pups and pussycats meant to them and their families.
"The beauty of each Memorial piece is the uniqueness caused by the ashes themselves. No two are exactly alike and our families love this. Just having the memorial nearby and catching a glimpse of it in passing brings back happy thoughts."
Unique pet memorial and keepsake ideas:
Cremation jewellery and keepsakes
Pawprint keepsakes
Fur jewellery keepsakes
Pet portraits
Memorial frames and boxes
Glass art memorials
Whether for a furry friend, or a lost family member, our range of memorials can help you find the perfect tribute. And, for more guides and advice, be sure to take a look at our blog.