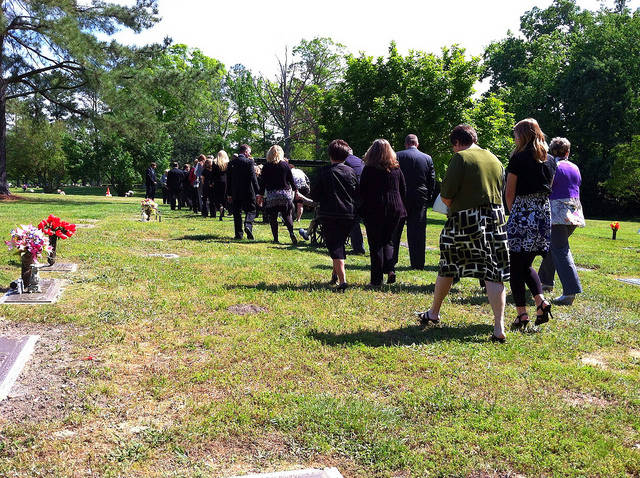 What to take to a funeral
Posted by AK Lander | On April 24, 2014 14:20
While attending a funeral is never easy, you can plan to be as prepared as possible to make the situation more bearable
Funerals are never easy; whether it is a friend, relative, a loved one or even if you weren't particularly close with the deceased, attending a funeral can still be an upsetting and difficult time. One of the few ways to make the experience of funeral planning easier, many people find, is by ensuring that they are as prepared as possible.
Simply through ensuring you have everything you could possibly need to comfort others or make yourself feel more comfortable can ensure that you give the deceased the send-off they deserve, whilst comforting and helping those around you and adhering to funeral etiquette.
Memories
Taking such items as a small memento of the departed can help you feel closer to them, whether that be a piece of jewellery or even their favourite poem. Such items can bring forward happy memories at a time that is understandably difficult for all.
Many feel better attending a funeral with funeral flowers or sympathy messages jotted down in a card or a letter. Just the act of bringing something of meaning to the family can help alleviate some pain that the event can bring and mean a great deal to others in attendance. While the funeral headstone may not have been placed yet after the service, taking flowers along and placing them at the service itself can mean a lot to the family.
Take a bag
Bringing a bag filled with items that make you feel prepared can help take your mind off of the funeral plans and the service itself, but also can be a way of helping those around you. Many people say that when someone passes they feel helpless to those around them, but packing a bag with certain items to help ensure that no one is in need of anything during or after the service can really help with these feelings.
Here is a checklist of things to pack for both yourself and others:
Tissues.
Some money for charity donations.
Water; tears or summer heat can make people very thirsty during a service or can help avoid a coughing fit.
A pen, to sign a condolence book or similar.
An umbrella.
Sunglasses.
Warm layers in case you or anyone else catches a chill.
Cereal bars or some form of snack; many people don't think about eating before a funeral.
Painkillers in case heat or crying sees anyone sustain a headache.
For women – make-up for yourself or make-up wipes for others in the funeral party and a handheld mirror. These can make yourself feel of use and also make you feel more confident to be there for others.
Just through packing these simple items and taking them with you can make the situation easier and dispel any stress that feeling underprepared can conjure. If you are driving to the service, you could take a couple of extra coats and things others may not have thought of, as well as umbrellas or a change of shoes for yourself to make sure you and others around you are as comfortable as possible at this difficult time.
While nothing can take away the pain of losing someone you have cared about or knew, rest assured there are things you can do to make funeral plans as simple and easy as possible.