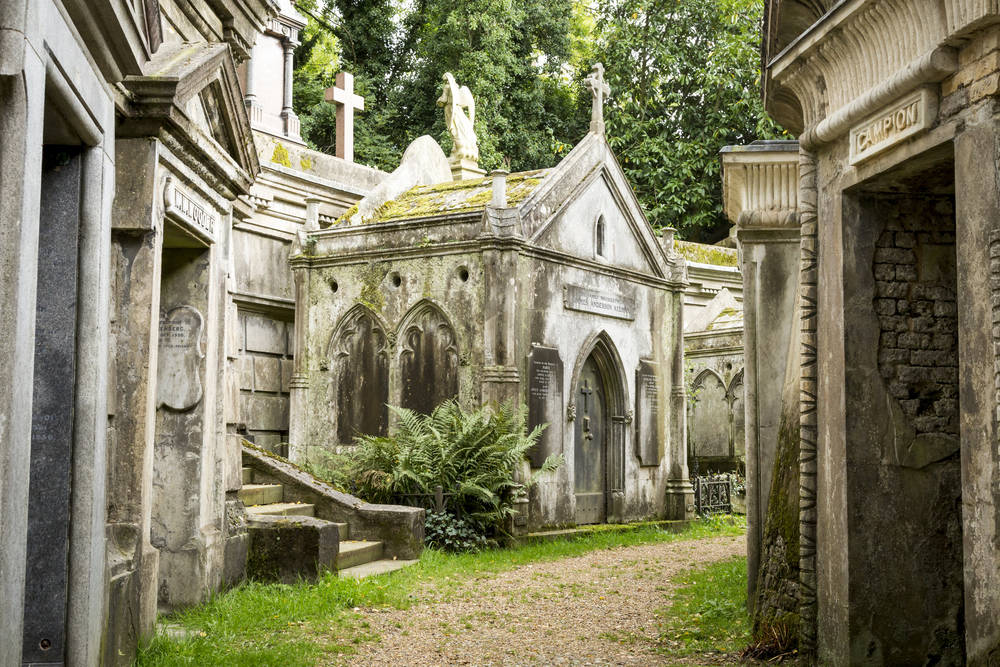 The world's most famous cemeteries
Posted by AK Lander | On March 23, 2018 00:00
From the ornate memorial headstones of Highgate to the hauntingly beautiful mausoleums of Green-Wood, this article is your guide to the world's most famous cemeteries.
From the ornate memorial headstones of Highgate Cemetery in London to the striking mausoleums of Green-Wood Cemetery in Brooklyn, graveyards say a lot about an area's history. As well as being peaceful places to reflect on lost loved ones, cemeteries are fascinating historical sites, revealing in great detail the story of a city or town's past. In this article, we'll look at some of the world's most famous cemeteries, and speak to some of the organisations which help preserve them.
Highgate Cemetery, London
Situated near Hampstead Heath, Highgate is undoubtedly London's most famous cemetery. Many visit to wander through the intertwining paths, meandering past ancient tombs and memorial headstones. Highgate Cemetery is perhaps most renowned for being home to the grave of Karl Marx. His tomb can be found in the Eastern cemetery and commemorates Marx, his wife and other members of his family. The impressive tomb was designed by artist, sculptor and communist party member Laurence Bradshaw.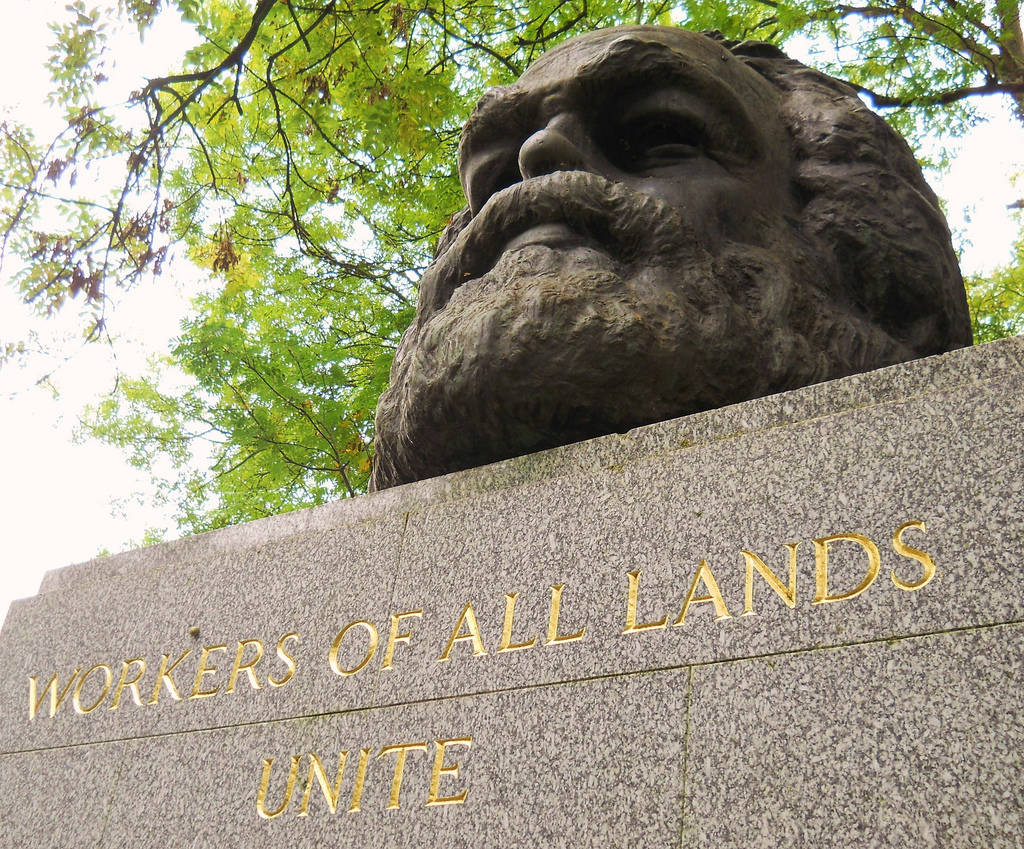 Highgate originally opened in 1839 and formed part of London's 'Magnificent Seven' park cemeteries, which were created in a bid to move burials out of the city due to health concerns and overcrowding in church cemeteries. Many of the tombs were created in beautiful Victorian Gothic-style, and the impressive stonework helps to create the hauntingly beautiful scenery of Highgate Cemetery.
Along with Karl Marx, other notable people buried at Highgate Cemetery include English novelist Mary Anne Evans (known under her pen name George Eliot) and Douglas Adams – author of Hitchhiker's Guide to the Galaxy. To visit these famous graves, and to learn more about this interesting cemetery, why not join a tour?
Lafayette Cemetery No.1, New Orleans, Louisiana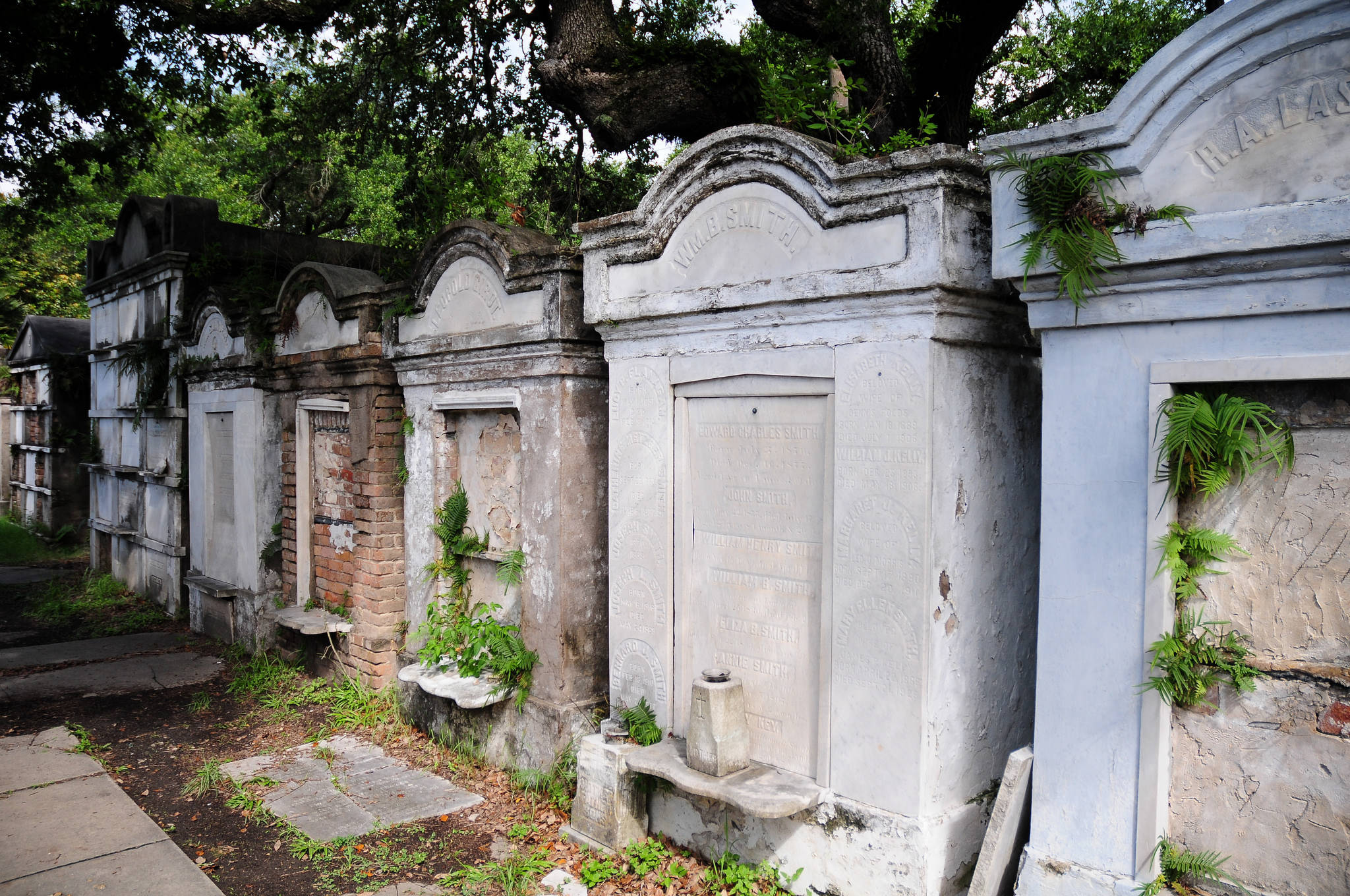 In the heart of New Orleans' Garden District, Lafayette Cemetery No.1 is the oldest cemetery in the city, built in 1833. It is perhaps best known for its beautiful memorial headstones and tombs which sit in rows in the Louisiana sunshine.
The cemetery's eerie yet beautiful crypts are surrounded by well-kept green grass, making it surprisingly pretty place to visit if you're ever in New Orleans. Memorials include those who died from yellow fever, volunteer firefighters and The Brunie family, a group of talented jazz musicians who were closely linked to Papa Laine and the New Orleans Rhythm Kings.
We spoke to Save Our Cemeteries, an organisation dedicated to the preservation, promotion and protection of New Orleans' historic cemeteries, about their work, and what makes Lafayette Cemetery No.1 so special:
"The organisation was established in 1974 in response to the Archdiocese of New Orleans announcing a plan to destroy the wall vaults surrounding the historic St. Louis Cemetery No.2, and replace them with a chain-link fence. The preservation community was incensed.
"Eventually, the organisation partnered with the Archdiocese of New Orleans to not only save the wall vaults, but also stabilise and repair the vaults. Save Our Cemeteries was created in response to this threat, but the organisation quickly realised the problem of cemetery neglect was not limited to just one cemetery."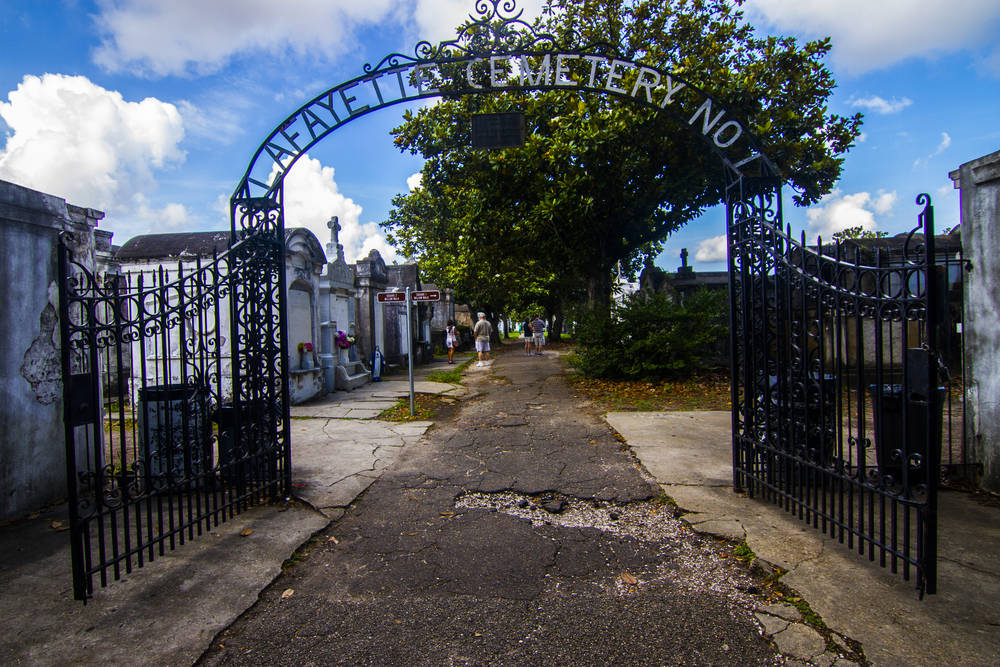 Today, the group works to restore abandoned tombs, conducts volunteer clean-ups and maintenance projects in cemeteries across New Orleans, offers cemetery walking tours and educational lectures and fundraising activities. Although the city is full of beautiful cemeteries, Lafayette No.1 remains one of the most famous, along with St Louis Cemetery No.1. We asked the team at Save Our Cemeteries to tell us more about it:
"Lafayette Cemetery No.1, located in the historic Garden District of New Orleans, is one of the most famous cemeteries in the world. Popularised through film and fiction, the cemetery's above-ground tombs and shades pathways have become an iconic image to residents and visitors alike.
"The land on which Lafayette Cemetery No.1 now stands originally belonged to the Livaudais family, who also owned New Orleans' only racetrack at the time, the site of today's Metairie Cemetery. Esnould Dugue de Livaudais suffered financial difficulty after his sugar plantation was flooded by the levee failure of 1816 and subsequently was sued for divorce by his wife. Madame Livaudais was awarded the plantation as part of the divorce settlement, and she sold the plantation in 1832 to four American land developers.
"In 1832, city surveyor Benjamin Buisson laid out the subdivision that would become the Garden District and reserved one square for a municipal cemetery. The original City of Lafayette (named for the Marquis de Lafayette, a Revolutionary War hero) incorporated the subdivision, including the cemetery, in 1833. When the City of Lafayette was annexed by the City of New Orleans in 1852, the city took over management of the cemetery, which retains its original name today."
Lafayette Cemetery No.1 is divided into four quarters by two wide pathways. The paths are lined with magnolia trees and paved with crushed oyster shells, which, according to the organisation, provides "a more park-like atmosphere". They added: "Additionally, a greater religious diversity can be seen in Lafayette Cemetery No.1 than is present in the early Creole and Catholic-dominated St. Louis Cemeteries.
"Given the cemetery's location in the heart of the Anglo-American community, a large number of tombs in Lafayette Cemetery No.1 were constructed by wealthy American families who were settling in the Garden District at that time. There are also many smaller family tombs built by Irish and German immigrants from the nearby Irish Channel neighbourhood. Additionally, there are over 500 sealed wall vaults along Washington Avenue, as well as multiple society tombs for volunteer fire companies and other organised groups."
Cimetiere du Pere Lachaise, Paris, France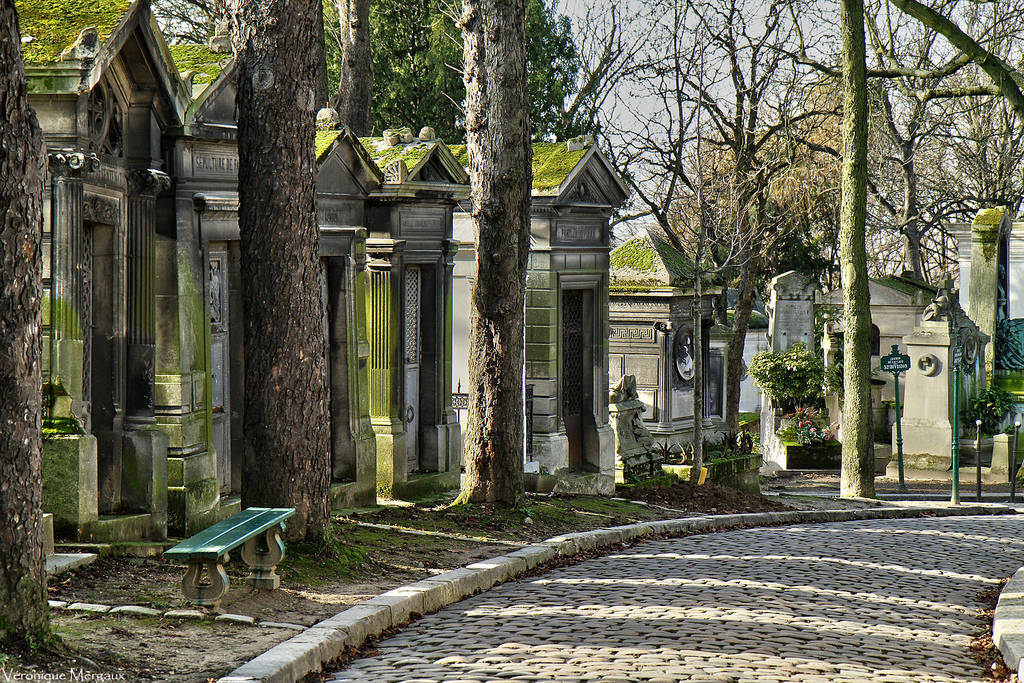 Pere Lachaise cemetery is the most visited necropolis in the city of Paris. It is named after King Louis XIV's confessor, Father Francois d'Aix de La Chaise, and is the final resting place of many famous people including Oscar Wilde, Jim Morrison, French poet Guillaume Apollinaire and novelist Honore de Balzac. Its beautiful Gothic graves are the biggest draw for those living in or visiting Paris, but the cemetery contains a total of 70,000 burial plots, including ancient mausoleums and Haussmanian burial chambers.
Green-Wood Cemetery, Brooklyn, New York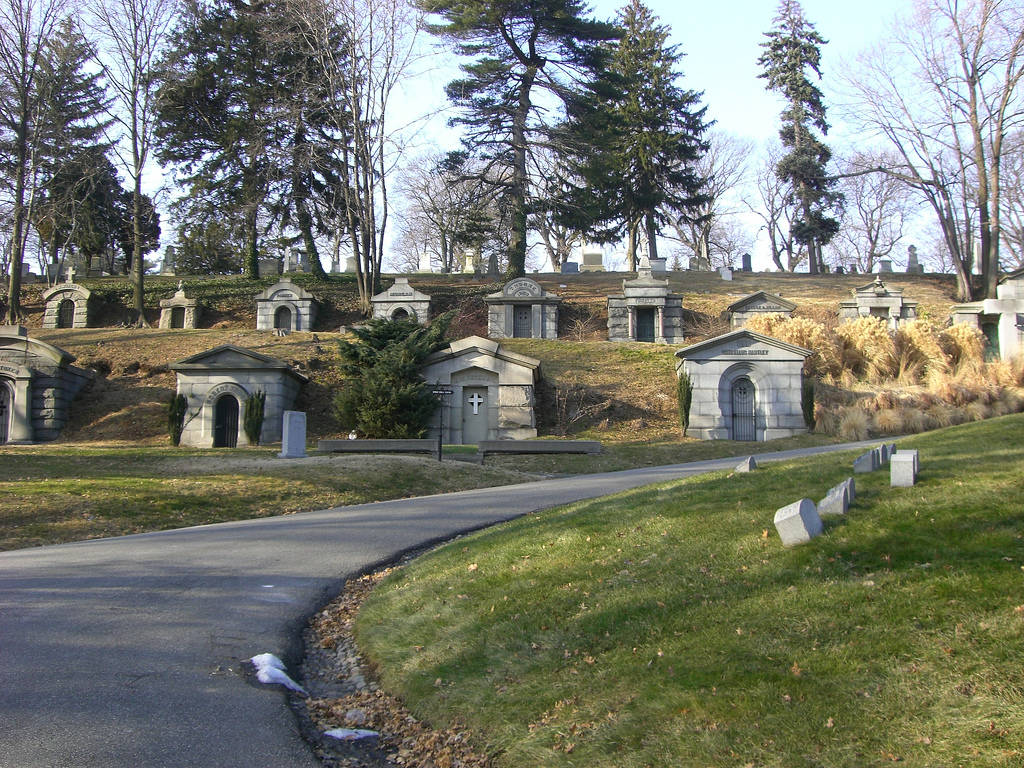 Green-Wood was one of the first rural cemeteries in America, founded in 1838. Now a recognised National Historic Landmark, the cemetery quickly gained a reputation for being one of the most picturesque and prestigious places to be buried. By the early 1860s, the cemetery was welcoming 500,000 visitors a year.
It was, and still is, much more than just a cemetery. Its spectacular green hills, ponds and winding paths make it a prime spot for a stroll, and indeed many Brooklyn locals join tourists in visiting Green-Wood. Baseball legends, politicians and inventors are among those buried here. To find out more about this fascinating cemetery, we spoke to the team at Green-Wood:
"The Green-Wood Cemetery in Brooklyn is not only a solemn and beautiful resting place for more than 570,000 souls, it's a cultural destination for in-the-know New Yorkers. Founded in 1938, Green-Wood was one of America's first rural cemeteries. By the late 1860s, it was attracting half a million guests every year, making it one of the America's most-visited tourist destinations – second only to Niagara Falls. In fact, Green-Wood's popularity helped inspire the creation of NYC's Central Park.
"Today, the 478-acre Green-Wood is one of New York City's largest green spaces, offering rich ecological diversity. Visitors can meander through the ground's great visual delights, including panoramic views of the Manhattan skyline and the Statue of Liberty. Those who visit Battle Hill are rewarded with stunning views as they look out from the highest natural point in Brooklyn and the site of the largest battle of America's Revolutionary War."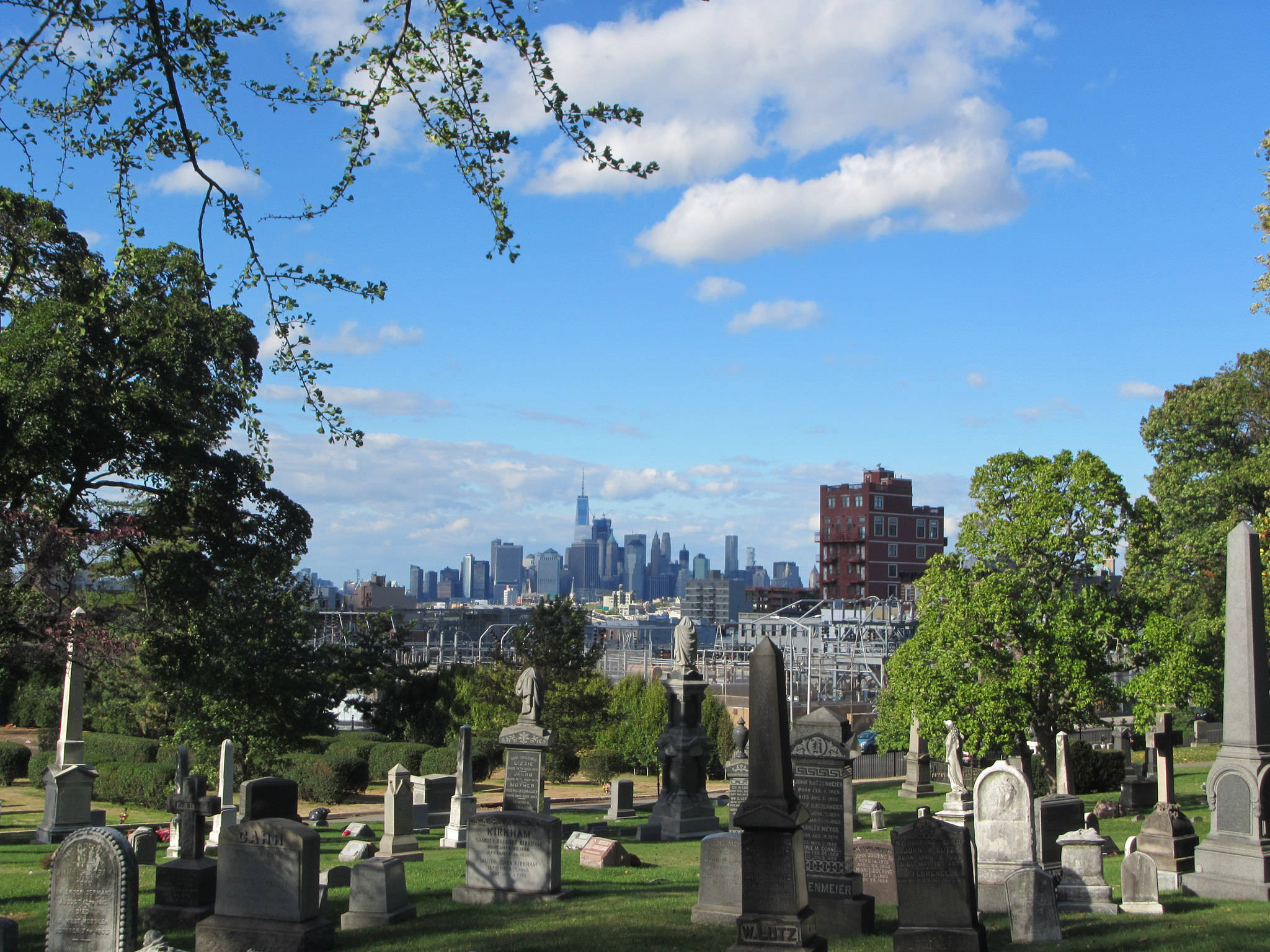 In recent years, the cemetery has embraced its role as a cultural and historic institution and now offers interesting programmes, including birding tours, family-friendly scavenger hunts and celebrations of the spring and winter equinoxes. The team added: "The cemetery also hosts a variety of cultural events throughout the year, including concerts, performances and art exhibitions.
"The cemetery is home to thousands of magnificent historic monuments – many designed by world-renowned sculptors including Frederick MacMonnies, Augustus Saint-Gaudens and Charles Calverley. Further, politicians, musicians and over 5,000 Civil War veterans, inventors, artists, the famous and the infamous are 'permanent residents'.
"The Freedom Lots are home to over 1,300 nineteenth-century African Americans buried at Green-Wood. Some of the cemetery's most famous residents include Leonard Bernstein, the American composer and conductor, Charles Lewis Tiffany, founder of Tiffany & Company, Dr Susan Smith McKinney-Steward, New York State's first black female physician, and Jean-Michel Basquiat, neo-expressionist painter of world renown.
"Visitors can take self-guided tours by using Green-Wood's free map or participate in one of the cemetery's many guided tours."
Brookwood, Woking, Surrey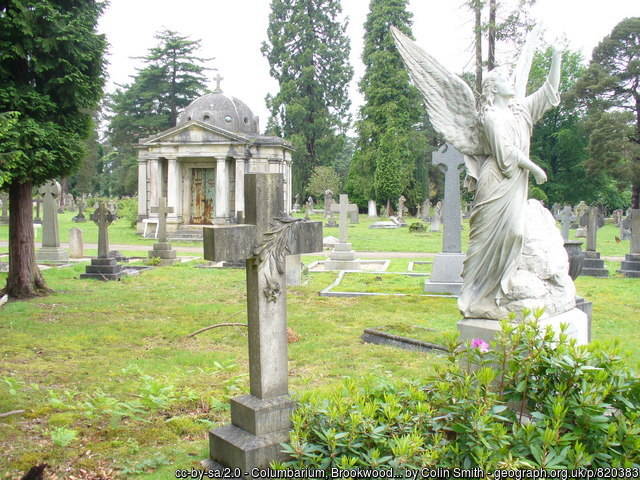 Once the largest cemetery in the world, Brookwood retains a high accolade by being the largest cemetery in Western Europe. Approximately 250,000 people have been laid to rest within these tranquil grounds, which first opened in 1854. The picturesque graveyard covers 230 acres and has a noteworthy Victorian section, with many spectacular Victorian memorial headstones. Brookwood is also home to one of the largest military cemeteries in the country, incorporating the World War One American cemetery, the oldest Muslim cemetery and a Zoroastrian burial ground.
Arlington National Cemetery, Virginia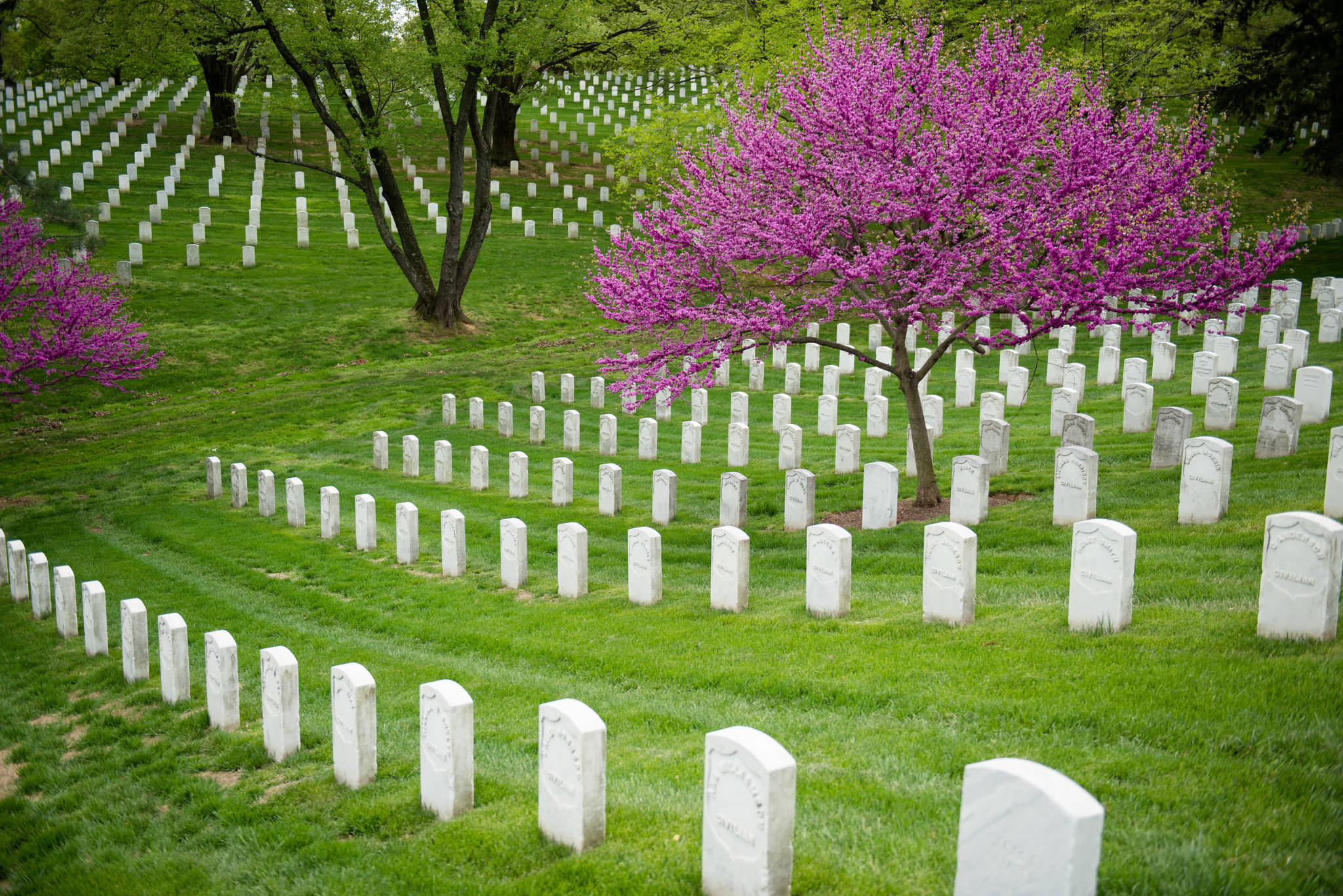 Arlington National Cemetery is a military cemetery in Arlington, Virginia. It is perhaps most famous for being the final resting place of John F Kennedy, although 400,000 US soldiers have also been laid to rest in these beautifully-kept grounds. Established in 1864, the cemetery is estimated to be completely full by 2060.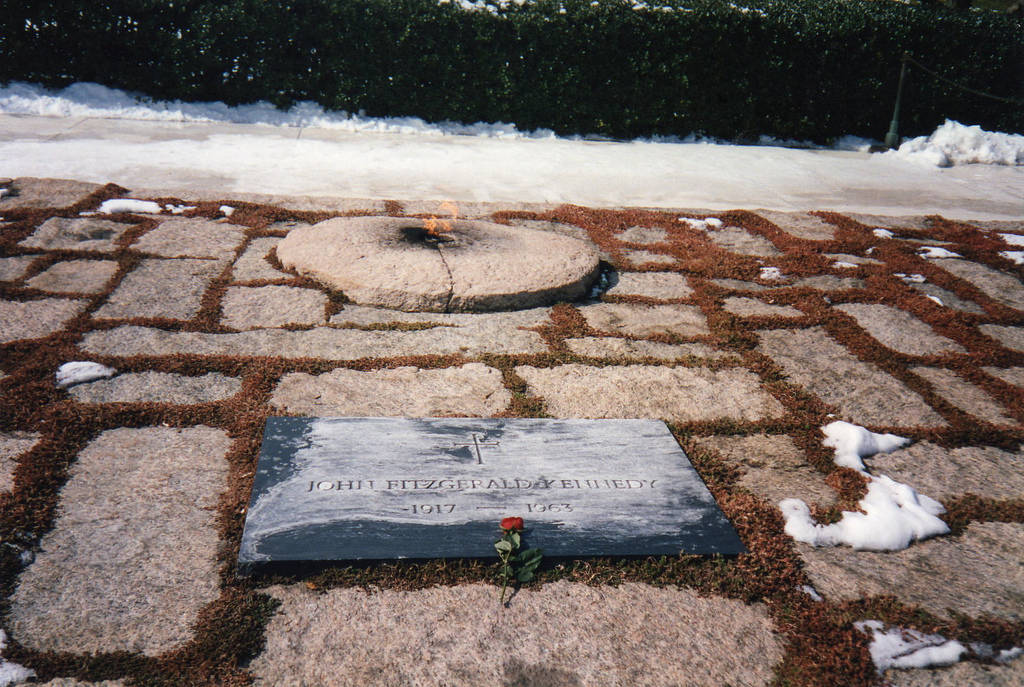 The cemetery is built on plantation land that once belonged to George Washington Parke Custis – the grandson of Martha Washington and step-grandson of President George Washington. Custis inherited the plantation and built Arlington house – a Greek Revival-style mansion, as a tribute to George Washington. He filled the home with many of Washington's belongings. Over the years, and through the Civil War, the land changed hands and became a burial ground for fallen soldiers. Alongside John F Kennedy's headstone, the Tomb of the Unknown Soldier is very popular among visitors. This monument is dedicated to unidentified U.S service members who died in the line of duty.
Due to its famous residents and fascinating history, Arlington National Cemetery offers tours for those wishing to learn more. The cemetery is open 365 days a year and tours are available Monday to Sunday.
Other famous cemeteries
St Martin, Bladon, Oxfordshire
In the village of Bladon, moments from Blenheim Palace, the cemetery of St Martin's Church is the final resting place of Sir Winston Churchill. Dating back to the 11th or 12th century, the picturesque church has a great historical significance and, due to Churchill's presence, it remains one of the most famous in the world. Sir Winston Churchill was buried here on January 30, 1965, after his state funeral service at St Paul's Cathedral in London. In 1998, his memorial headstone had to be replaced, as over the years the huge amount of visitors slowly eroded it and its surrounding area.
Ketchum Cemetery, Idaho
The grave of famed author Ernest Hemingway is a simple slab in the Ketchum Cemetery, or Sun Valley cemetery in Idaho. Known for his excessive drinking, and exceptional writing, Hemingway tragically took his own life in 1961, following in the footsteps of his brother, sister and father. In his final years, Hemingway lived in a home near the city of Ketchum. And although he had close ties to Key West in Florida, he was laid to rest here. Despite his unassuming headstone, fans still visit Hemingway to leave alcohol and flowers and his grave.
Image credits: Veronique Mergaux, Kevin, Arlington National Cemetery, David Holt, David Holt, Daniel Hartwig, TheTurducken