Memorial Headstone Renovation
Here at AK Lander, we understand that taking care of memorial gravestones is important to ensure a memorial best commemorates the life and values of the deceased.
It is for this reason that we provide a meticulous headstone restoration service that can be carried out on all forms of memorial headstones and gravestones to the high standard AK Lander is renowned for.
From the cleaning of marble memorials, granite headstones and gravestones with kerbs to adding extra lettering and inscriptions on the headstone, there are many services which can be offered through our memorial renovation services.
In terms of pricing, our friendly and experienced team will respond to enquiries with an itemised quote to the memorials specific requirements. As a general idea, here are some guide prices for common gravestone restoration, however we need to see the condition before we can give a clear quotation. Please supply a photo with your enquiry or we can visit the site for a FREE inspection.
Clean marble headstone - from £200
Clean marble kerb set and headstone - from £300
Clean granite headstone - from £105
Clean granite kerb set and headstone - from £230
Re-fix headstone to base - from £150
Re-fix component parts of kerbset - dependent on inspection
Our gravestone memorial restoration work is carried out by skilled restorers. This means that all AK Lander customers obtain the product they were hoping for and the stone that best celebrates the memory of their friend or family member.
To learn more about any of our renovation services, contact the AK Lander team today.
Replacement and Additional Inscriptions
An existing headstone inscription may have to be repaired or replaced from time to time. We can also add additional lettering to gravestone inscriptions - the cost of this will be dependent on both the memorial type and the style of the inscription.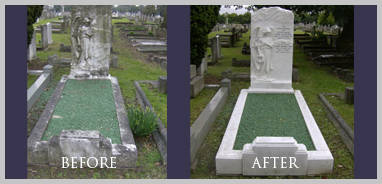 Remove and Refix Memorials
We are also able to offer the removal of a gravestone from a site, with the total cost of complete removal and replacement of a gravestone.
Please contact our team for more details regarding these additional services.