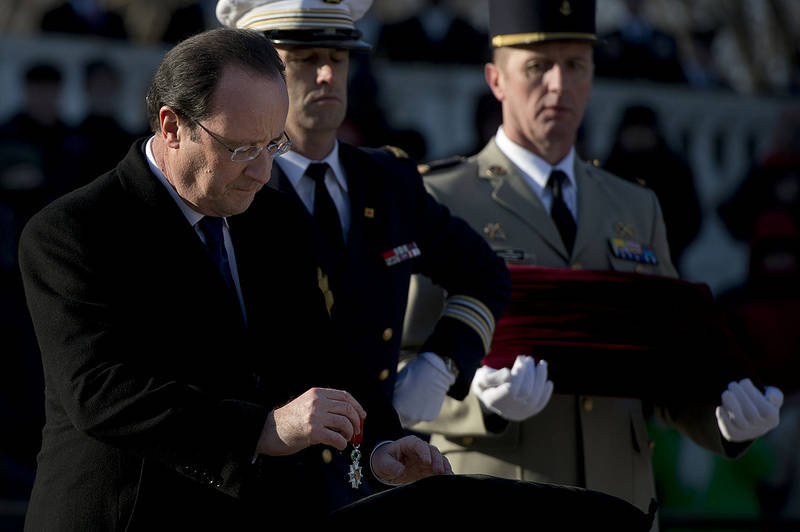 Hollande leads memorials in France
Posted by AK Lander | On July 15, 2015 08:48
President Hollande pays tribute to the three police officers who lost their lives in last week's terrorist attacks.
The memorial services for three police officers have been carried out in France following the terror attacks that took place in the country last week. President François Hollande, alongside Prime Minister Manuel Valls, honoured the three officers meeting members of the victims' families before adorning each coffin with a medal.
The engraved gravestones of each of the officers are likely to be well kept by both the families of the deceased and members of the public looking to pay their respects to those who, in Hollande's words, "died so we can live free."
"Madness has no religion"
The service, in which the officers were each made a Chevalier of the Légion d'honneur, came as four Jewish victims of the attack on a kosher supermarket during the assaults were buried in Jerusalem.
The three officers who lost their lives defending France were Lt Franck Brinsolaro, 49, who was a protection officer assigned to the Charlie Hebdo editor Stéphane Charbonnier; Ahmed Merabet, 40, who was gunned down outside the magazine offices and Clarissa Jean-Philippe, 26, who was shot by the Kouachis' accomplice Amély Coulibaly after being called to a car accident in the Montrouge area of Paris. Hollande praised the officers saying, as reported in this article, "The whole of France shares your sorrow and your pain. Clarissa, Franck, Ahmed," before going on to say, "they represented the diversity of origins … of the forces of order in our country."
The president condemned the attackers, who said that they carried out the attack in the name of Islam, saying, "Madness has no religion, it has the face of hate, a hatred for all that France represents."
The ceremony for the officers comes ahead of a national ceremony due to take place at Les Invalides next week, which will honour all 17 victims of the attacks on the Charlie Hebdo publication offices, which was reported on in this article, and a kosher supermarket in Paris.
Image Credit: Chuck Hagel (flickr.com)