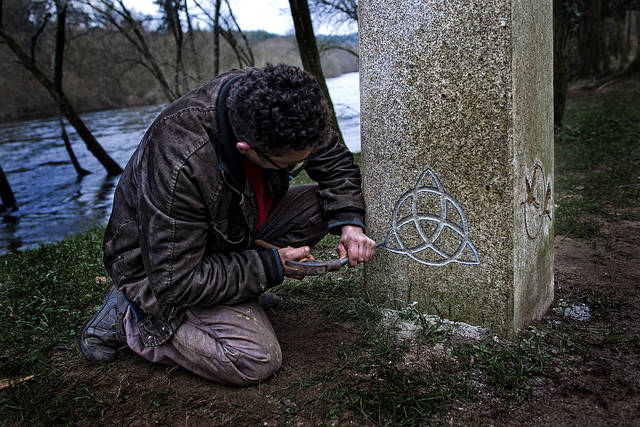 Spotting the signs of a good memorial maker
Posted by AK Lander | On December 10, 2014 13:52
Here are just a few ways to ensure the memorial mason you choose is professional in their skills and service.
When it comes to choosing a memorial for a loved one you will want to ensure that you have chosen the best for your needs, taste and wallet.
At such a personal and difficult time you are putting a great deal of trust in people you may never have met before, particularly with the creation and style of the memorial, which can be particularly personal. That is why it is so vital to know the signs of a good memorial stone maker.
Personal
When it comes to a memorial you want it to be just that; an effective tangible memory of your loved one. Thankfully there are many reputable stonemasons that are expertly equipped with the skills and experience to deliver beautiful handcrafted bespoke memorials.
From unique designs and etchings , most memorial makers in today's field can now produce almost any memorial you can think of to really capture the spirit of your loved one. While it is often thought of to commemorate the deceased, a unique and personal gravestone can often help with the grieving process, and long after. With a unique design, family members can come to remember their loved one and better see the person rather than the memorial that represents them.
So when it comes to choosing a good memorial maker, ensure that they can achieve what you want from your memorial design – ensure that they know what you want, are able to create it and can also put it together professionally at the site for the headstone.
Experience
It is also important, at such a delicate time, to ensure that the memorial maker you choose is sensitive to your feelings and wishes. The experience of choosing a memorial is never enjoyable and you should choose a memorial maker that can help make the process as easy and painless as possible whilst ensuring you receive the service and result that you want.
A great way of making sure of this is to choose an established memorial maker that has years of experience in not only creating skilled stonework, but also at delivering a service that is personal and sensitive. With experience comes understanding, and many of the best stonemasons have been around for years and know just how to deliver an expert service that results in a stunning memorial that will stand the test of time.
Value
No one wants to think of money at such a time, but unfortunately headstones can be uncomfortably expensive. When choosing a memorial provider it is also important to ensure you are getting value for money, meaning the most high quality service, skill and material for a good price.
Special offers on headstones in this case, should not be thought of as distasteful, as many fitting memorials can be secured this way that are created with great skill and materials at a lesser price.
Testimonials
One sure sign of a good memorial maker is if they have received positive testimonials for memorials they have created. Whether this is through word of mouth or, if they are well-reputed, through the testimonials section on their website, you can normally get a good handle on the reliability and quality of their services.
From the skill and detail put into the creation of the memorial to the professionalism and sensitivity of the service itself, testimonials stand as a good benchmark for deciphering between a good memorial maker and a below average service.
Awards and Accreditations
Finally, there is a more technical way of spotting a good memorial maker. As it is such a delicate subject there is an accreditation in place that every good memorial maker should have. BRAMM, the British Register of Accredited Memorial Masons, and NAMM, the National Association of Memorial Masons, are two associations that guarantee the standard of their members.
Full retail members of NAMM are, as stated on their website, 'highly skilled professional memorial masons who meet minimum standards of competency and guarantee to work to the NAMM Code of Business Practice and NAMM Code of Ethics.'
BRAMM was initially set up 'with the aim of establishing a network of nationally accredited businesses and registered fixers that will ultimately replace individual Registration Schemes.' This was so that individuals could feel secure in their choice of memorial mason.
By choosing a memorial mason that is both NAMM and BRAMM accredited you know they are an established and professional business that will take care of your wishes with the utmost discretion and professionalism.
See the below video from NAMM for a clearer idea on what NAMM members can do to help you remember your loved ones.
Recently, the NAMM General Council and BRAMM Board have approved the merger of RQMDF and BRAMM registers to form one independent industry register that the public can go to and choose an accredited memorial mason. This means that the mason will have equal representation from burial and memorial authorities and save a lot of distress should you have otherwise chosen a non-registered business.
Both NAMM and BRAMM stand as a way to serve both the memorial industry and bereaved families in a way of maintaining high standards of memorial construction.
By following these ways of spotting a good memorial maker you should not only receive the smooth and professional service that you deserve, but also enjoy a high quality memorial that you can visit for years to come and remember your loved one in the way that you had imagined.