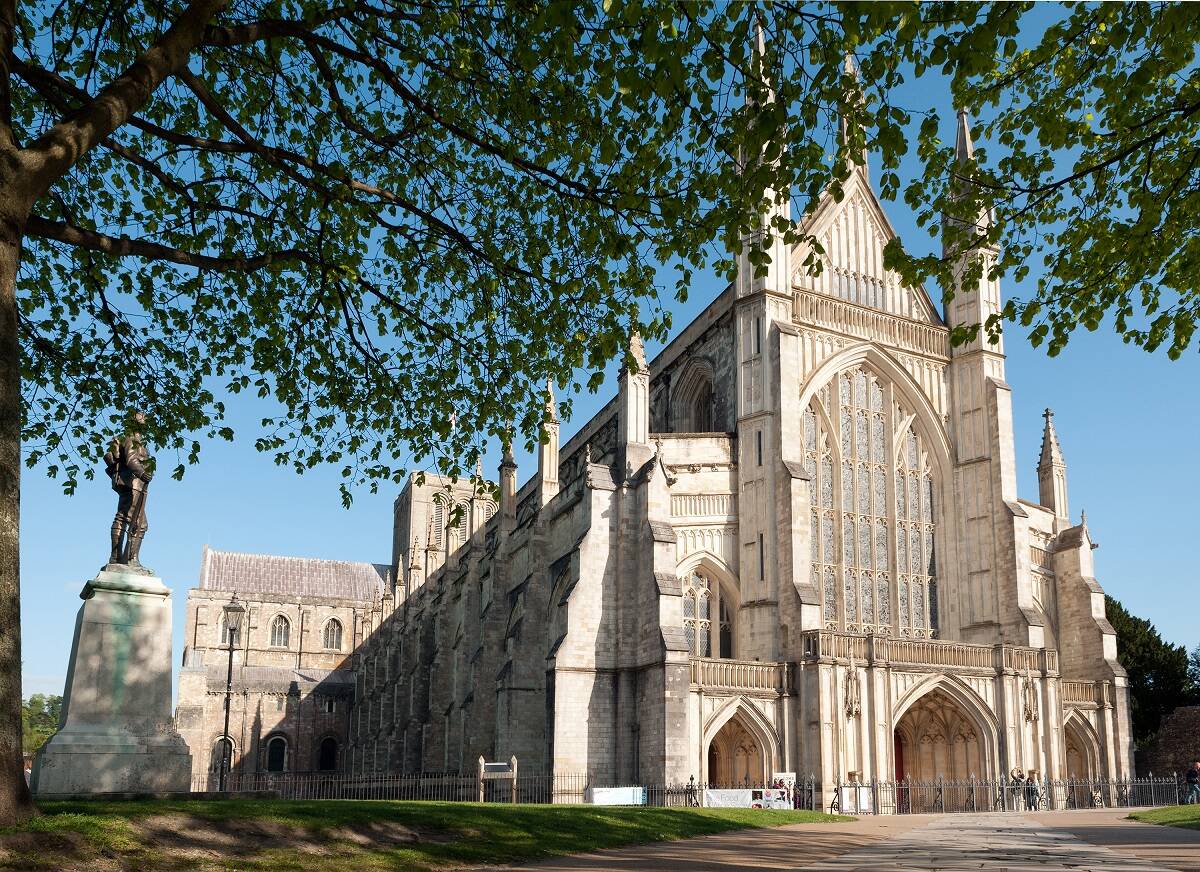 Who is buried at Winchester Cathedral?
Posted by AK Lander | On June 7, 2021 00:00
Want to know who is buried at Winchester Cathedral? Read our article and learn about some of the many famous figures from history who are buried there.
There are locations across the UK that have played pivotal roles in our history and Winchester Cathedral is certainly one of these. For over a millennium, this famous cathedral has stood, and its walls can tell some fascinating tales. Just think how much it has seen over the centuries! Winchester Cathedral is one of the largest cathedrals in Europe and today it is the resting place of some truly notable individuals.
Who is buried at Winchester Cathedral? From kings and queens to bishops, statesman and one truly iconic author, the list is as extensive as it is impressive. If you love your history, this ancient place of worship is certainly one worth looking into.
In this article, we reveal exactly who is buried in Winchester Cathedral and highlight a few of the most notable names, providing a little insight into who they were and what they are known for.
READ ALSO: Who is buried at Windsor Castle?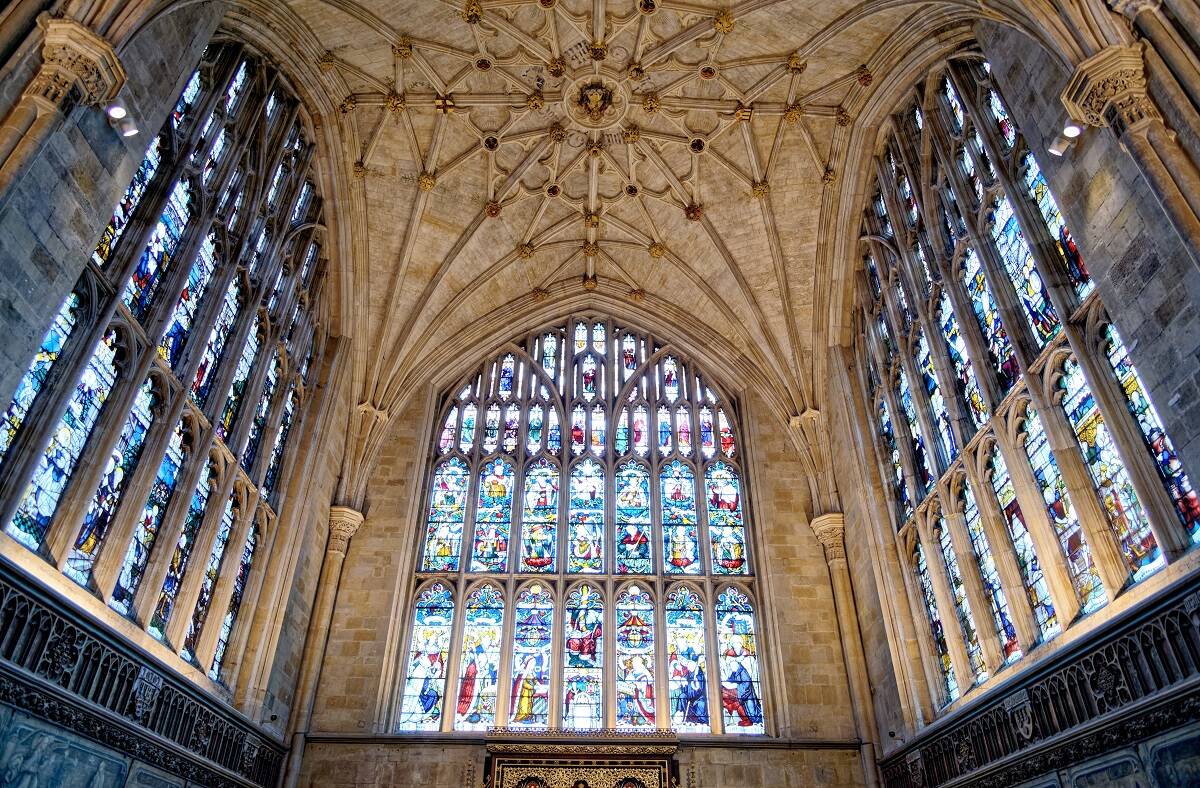 As mentioned, the list of royalty and notable people buried at Winchester Cathedral is extensive and below you can find the complete list.
Which famous people are buried at Winchester Cathedral?
Ælfgifu, Queen consort of England (wife of King Eadwig)
Æthelwulf, King of Wessex
Jane Austen (English novelist)
Cardinal Henry Beaufort (grandson of Edward III)
Frances Cecil, Countess of Exeter
Cenwalh, King of Wessex
Cnut the Great, King of England, Denmark and Norway
Cynegils, King of Wessex
Cynewulf, King of Wessex
Eadred, King of the English
Eadwig, King of the English
Ecgberht, King of Wessex
William Edington, Bishop of Winchester
Emma of Normandy, Queen of England, Denmark, and Norway
Richard Foxe, Bishop of Winchester
Bishop Stephen Gardiner (Lord Chancellor)
Bishop William Giffard (Lord Chancellor)
Godwin, Earl of Wessex
Harthacnut, King of England and Denmark
Henry of Blois, Bishop and papal legate
Thomas Langton, Bishop of Winchester
Godfrey de Luci, Bishop Winchester
Elizabeth Montagu (social reformer)
Richard of Normandy (son of William the Conqueror)
Saint Swithun (patron saint of Winchester Cathedral)
Thomas Thetcher (The Hampshire Grenadier)
Walkelin (first Norman Bishop of Winchester)
Izaak Walton (English writer)
Bishop William Waynflete (Lord Chancellor)
Samuel Wilberforce (public speaker)
King William II of England
Henry Woodlock, Bishop of Winchester
William of Wykeham, Bishop and Lord Chancellor
When was Winchester Cathedral built?
By looking at the list of those buried at Winchester Cathedral, it's not surprising to learn that the cathedral is incredibly old. There has been a cathedral at Winchester since A.D. 642, with the original 'Old Minster' located just north of the current cathedral. Work began on a new cathedral in 1079, which was consecrated in 1093. The 'Old Minster' was then demolished.
Where is Jane Austen buried?
Jane Austen's grave is found at Winchester Cathedral along with some of the most famous names from England's past. The beloved English novelist and acclaimed author of classics such as Pride and Prejudice died in 1817 at the age of 41.
READ ALSO: Who is buried at Westminster Abbey?
Selected Winchester Cathedral burials
Now that you are familiar with some of the names buried at Winchester Cathedral, let's go into a little more detail about a handful of the notable people buried here.
Jane Austen
There is no question that Jane Austen is among the most recognised authors in English history. This iconic author is well known not just in England but across the world thanks to her classic novels that include Sense and Sensibility (1811), Pride and Prejudice (1813), Mansfield Park (1814) and Emma (1816).
Even though she is buried among kings and queens, Jane Austen is perhaps the most recognisable names laid to rest at Winchester Cathedral, which certainly speaks to her celebrated reputation as a great of English literature.
The novelist was born in 1775 in Hampshire, the same county where she also passed away at the age of 41 in 1817 after struggling with an illness thought to be Hodgkin's lymphoma. Her brother Henry used his connections to have her buried in the north aisle of Winchester Cathedral's nave.
William II of England
Born in 1056, William II was King of England between 1087 and 1100. William II was the third son of William the Conqueror – one of the most famous names in English history and a vitally important figure. William II's father led a successful Norman invasion of England, becoming the first Norman king of our country. Like his father before him, he was also the Duke of Normandy, extending his royal influence into modern-day France.
While being known as a wise ruler and general, William II also has the unfortunate reputation of lacking social graces and being addicted to every vice under the sun. These personal failings, however, didn't prevent him from restoring peace to Normandy and maintaining order and justice in England.
William II died in 1100 after being struck by an arrow while hunting in Hampshire's New Forest, his body found by a peasant after being abandoned by his nobles. William's remains can be found today in Winchester Cathedral's royal mortuary chests.
Izaak Walton
Izaak Walton was born in 1593 and is today best known as the author of The Complete Angler – a famous book that celebrates the art of fishing. Izaak lived through one of the most tumultuous and dramatic periods in English history, with the 1600s being a time of civil war, where King Charles I was ultimately executed, and the monarchy abolished. Walton was present and active throughout these remarkable events and aided the royalist cause.
After the monarchy was restored in 1649 under Charles I's son Charles II, Izaak Walton was recognised for his efforts and his staunch royalism. It was revealed that Walton had protected one of the Crown Jewels, returning it to London after a battle in Worcester, putting himself at enormous risk.
It was after the restoration that The Complete Angler was published in 1653. He spent the last 40 years of his life a widower, fishing and visiting clergymen who also enjoyed the sport. He was laid to rest at Winchester Cathedral at 90 years old in 1683.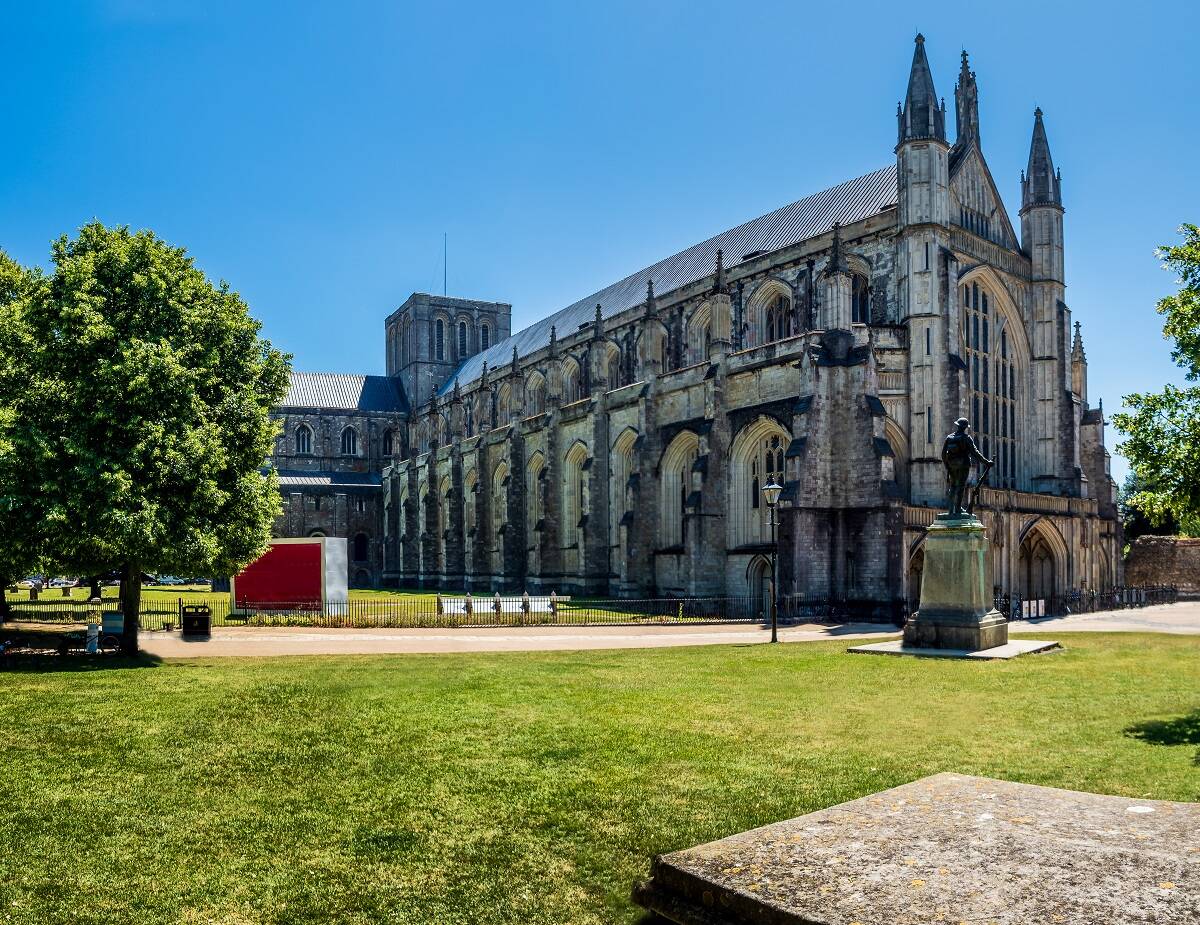 Cnut the Great
Cnut the Great is a well-known name among England's extensive list of kings. Cnut started life as a Danish prince and was part of the famous Viking Age of history, which didn't fail to touch the shores of England. Cnut was born in A.D. 990 and managed to win the throne from the Saxons in 1016, just fifty years before the Norman invasion that would change the country forever.
Cnut would come to be the King of England, Denmark and Norway. Cnut made efforts to solidify his disparate kingdoms by uniting England and Denmark via cultural bonds and an iron fist. Cnut even managed to hold a city in Sweden, though he was never crowned.
Cnut the Great died in 1035 at the age of 45 and was buried at the 'Old Minster'. His remains would later be moved to the mortuary chests in the new cathedral. Cnut would become known in medieval times as the most effective king in Anglo-Saxon history and the succession of his son would lead to the landing of William the Conqueror in 1066.
READ ALSO: Where are the burial places of British Royalty?
Emma of Normandy
Emma of Normandy was Queen of England, Denmark and Norway. She was born in the year 984 in Normandy, the daughter of a Norman ruler. She ascended to her thrones through marriage to different kings of England.
Her first marriage was to Æthelred the Unready in 1002, as the result of Æthelred's attempt to pacify Normandy and to unite against Viking invasion. Upon marrying her first husband she became Queen of England and received the Anglo-Saxon name Ælfgifu. One of the last Anglo-Saxon kings of England, Edward the Confessor, was one of their three children together.
In 1015, Cnut the Great invaded England and eventually became king, this followed an earlier Danish invasion which led to the death of Æthelred. Emma would go on to marry Cnut, becoming queen once more. She died in 1052, aged 68, buried alongside Cnut at Winchester.
READ ALSO: Who is buried at Frogmore?
Famous figures buried at Winchester Cathedral
The list of remarkable and important figures from British history buried at Winchester Cathedral is pretty impressive. The names highlighted above take us to some of Britain's most important events and those who have contributed so greatly to our culture. With kings and queens, bishops and iconic authors, you are in good company if you are buried at Winchester Cathedral, that's for sure.
Are you searching for the perfect memorial headstones to memorialise your deceased loved one? If so, we at AK Lander would love to help.
For more guides, tips, and advice, make sure to visit our news page.